Hotsy Water Blast Offers the Widest Selection of Pressure Washers & Cleaning Systems in North America. If we Don't Sell It, We'll Build It!
We pride ourselves in being the industry leader in Hotsy Pressure Washers and industrial cleaning systems for over 40 years! We carry over 100 models of hot and cold Hotsy pressure washers, automatic parts washers, insulated caustic dip tanks and water treatment systems. If we don't sell it, we build it! Hotsy Water Blast Manufacturing is not only known for carrying the most rugged and dependable name in pressure washers, we specialize in custom manufacturing industrial cleaning systems. From custom mobile solutions to custom large-scale wash bays, we guarantee to configure any cleaning system to suit your needs. We know that time is money so we carry the largest inventory of pressure washers, parts, accessories and offer mobile service to keep you up and running, which means no downtime!
Your Trusted Pressure Washer Shop in Western Canada and Beyond
Looking to repair, service or replace your pressure washer? At Hotsy Water Blast, we do it all. Be it a hot pressure washer or a cold one, our experienced team has got the necessary tools, equipment and technical know-how to provide repair and maintenance services. We also offer mobile services, so you don't have to waste time. Currently, you can get great discounts on our products and services, including biodegradable detergents, pressure washers, hoses, trigger guns, wands and steam washers, among others. To know more about our promotions, give us a call.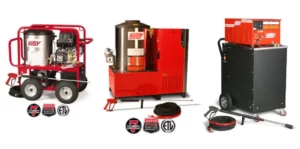 Industrial operations need effective cleaning systems that won't eat into labour hours. Pressure washers fit the bill, providing precision heavy-duty cleaning for all kinds of surfaces and large machinery. When…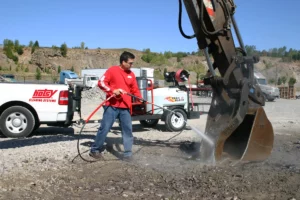 Keeping industrial equipment clean is essential for it to work efficiently and to extend its lifespan. To minimize labour costs and downtime, your staff must know the fastest way to…
Pressure switches and flow switches are essential components in pressure washing systems. Each has a unique function and role. Understanding the distinctions between these two components is essential for using,…