Hours:
Monday:
8:00 AM - 5:00 PM
Tuesday:
8:00 AM - 5:00 PM
Wednesday:
8:00 AM - 5:00 PM
Thursday:
8:00 AM - 5:00 PM
Friday:
8:00 AM - 5:00 PM
Saturday:
Closed
Sunday:
Closed
Hotsy Water Blast is Headquartered in Edmonton, Alberta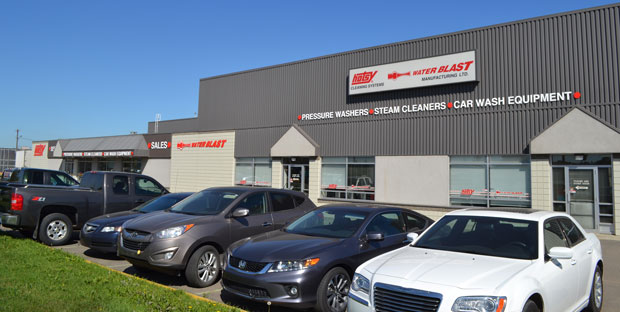 Edmonton, the capital city of Alberta, is the headquarters for Water Blast Manufacturing, which began building high-pressure cleaning equipment and pumping systems in 1969. When we started to service the full line of Hotsy cleaning equipment, we changed our operating name to Hotsy Water Blast Manufacturing and have since opened nine other branches to serve our valued customers. If you're looking for a high-pressure wash system to suit your needs, contact our cleaning experts; they are the most knowledgeable staff in the industry. Our selection of industrial-grade pressure washers is unbeatable and whatever your custom cleaning needs are, we can help!
With a proud commitment to servicing all industries, Hotsy Water Blast is equipped to supply and service equipment to get the best of the grimiest and messiest jobs. Whether you're in need of repairs for your truck wash equipment or require the inimitable cleaning power of a hot water pressure washer, Edmonton's Hotsy Water Blast can help.
Hotsy Water Blast in Numbers
Hotsy Water Blast has been Edmonton's destination for pressure washers and pumping systems since 1969. Through 4 decades, we have made it our mission to offer high quality equipment and repairs to contribute to your company's bottom line. Over the years, industries of all kinds have come to trust our expertise in cleaning systems, and the numbers speak volume as to why.
9 locations to serve you better, including our headquarters in Edmonton
18 fully-stocked service trucks to perform maintenance inspections and repairs on location
40 years of experience in the high-pressure cleaning equipment business
50-point inspection performed at each scheduled maintenance appointment
100 models of pressure washers and industrial cleaning systems available
All that and more is what makes the Hotsy Water Blast difference.
Keeping Alberta in Mind
At Hotsy Water Blast, we are proud to be an Albertan company. From our humble beginnings in Edmonton through our expansion, we have never lost sight of the needs of our province. By servicing and repairing multiple types of equipment and offering custom manufacturing or parts and systems, we ensure that we can serve the industries that have contributed to Alberta's prosperity.
Whether you're on the hunt for a new hot water pressure washer to cut through the grime and grease of your oilfield equipment, for maintenance services for your stream truck before Edmonton's harsh winter rears its ugly head and freezes your operations, or for a fast and easy way to clean and sanitize your agricultural equipment, the team of Hotsy Water Blast is happy to offer you its expertise in finding the right solution for you and keep Alberta thriving.
Contact Us Today
With our years of experience in the industry, the specialized expertise of our staff, and the range of products and services we offer, Hotsy Water Blast is Edmonton's one-stop shop for all your high-pressure cleaning equipment needs. If you need a new part, a new piece of equipment, or a new project to build from scratch, visit our Edmonton location!