Pressure washers for the waste management industry
Keeping trucks and other equipment clean requires a pressure washer designed to blast away the toughest caked-on grime, grease and any other material imaginable when collecting trash. Look no further than Hotsy Water Blast!
We've been servicing the waste management industry with top-quality pressure washer equipment for more than 40 years. We know that clean garbage trucks last longer than dirty ones. The last thing you need is your fleet sitting idle undergoing costly repairs. With more than 100 models to choose from, Hotsy Water Blast is sure to have a pressure washer solution for your operation. Contact HotsyAB today to learn how our products can keep your equipment and machinery clean.
Hot water pressure washer solutions
When removing the toughest dirt and grime, you can't beat a hot water pressure washer from Hotsy Water Blast. The hot water dissolves grease and oil residue, while the high pressure lifts it from the surface and the ample water flow washes it away. If you combine one of our hot water models with our signature pressure washer detergents, you'll never have a more satisfying cleaning experience.
A Hotsy Water Blast hot water pressure washer has many practical cleaning applications in the waste management industry, including:
Garbage truck fleets
Landfill sites
Roll-off bins
Trash compactors and balers
Dozers and scrapers
Front end loaders
Dumpsters
Recycling drop-off centres
Industrial waste sites
Automotive recyclers
Scrapyards
Weigh scales
Septic tank trucks
Rendering plants
Waste storage bins
Hazmat sites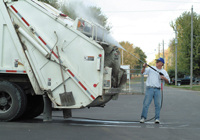 Benefits of pressure washer equipment in waste management
Clean garbage trucks look professional, operate smoothly and minimal odour. The sanitizing effect of a hot water pressure washing with bacteria-killing detergents will help keep your trash collectors and other employees healthy.
Besides keeping your fleet clean and sanitized, pressure-washing waste-carrier vehicles can uncover unwanted problems, such as hydraulic leaks, before they surface as emergencies needing expensive repairs. You'll save time, money and effort with pressure washer equipment from Hotsy Water Blast.
Wash bays and custom cleaning systems
Wash bays are an efficient way to clean your trucks, waste haulers, dumpsters and other equipment. These systems consist of a stationary industrial-strength pressure washer and a trolley system with multiple hoses and wands.
The main benefit is that multiple users can clean simultaneously using water from the same machine. It's an exceptional system for operations that clean multiple vehicles every day. Hotsy can design and create a custom cleaning system built to your specifications, complete with options and accessories.
Waste management pressure-washer equipment in Western Canada and North Dakota
Hotsy Water Blast is the number one manufacturer of high-pressure cleaning equipment and pressure washer parts. Factory trained and authorized for sales and service, we're your local expert for various cleaning applications. Contact us at one of our nine convenient locations; in Alberta: Edmonton, Calgary, Lethbridge, Red Deer, Grande Prairie; in British Columbia: Langley; in Saskatchewan:  Regina; in North Dakota: Williston and Bismarck.