The Water Maze CLP is a Totally Automated Waste Water Recycling System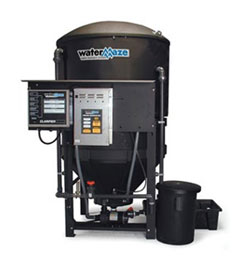 The automated CLP uses mechanical filtration that is an industry standard in waste water recycling systems. The CLP uses a digital sequencer to monitor and control the recirculation and filtering functions. Other functions include filter backwash and sludge discharge. The CLP provides optimum separation of oil and solids from wash water.
All CLP models are easy to install because they are pre-plumbed and self-contained on an all-steel platform protected by an epoxy powder coat finish. All CLP models are CSA approved.
For more information on the CLP, please contact Hotsy Water Blast at or call one of our 9 convenient locations. In Alberta: Edmonton, Calgary, Lethbridge, Red Deer, Grande Prairie. In British Columbia: Langley. In Saskatchewan:  Regina. In North Dakota: Williston and Bismarck.