The Transportation Industry Trusts Commercial-Grade Pressure Washers to Keep Equipment Clean
Trucking companies can't afford delays. Therefore, they rely on regular maintenance both under the hood and around the trailer. A clean vehicle can reveal oil and fluid leaks that would otherwise be hidden by mud and dirt. Moreover, a clean and well-maintained fleet gives your company a positive, professional image. Industrial pressure washers are perfect for removing grime and road film and help protect your fleet from salt and chemicals used during winter.
Fortunately, Hotsy Water Blast offers a wide selection of industrial-grade pressure washers that are used by the following transportation industries:
Shipping companies
Public transit systems
Car dealerships
Delivery vans
Taxi fleets
School bus fleets
Car rental companies
Airlines and air freight companies
Railcars
Ferries
Our pressure washers are also excellent for cleaning aluminum trailers, forklifts, ladders, racks, radiator grills, fifth wheels, exhaust stacks, fuel tanks and cargo holds.
Hot and cold-water pressure washing products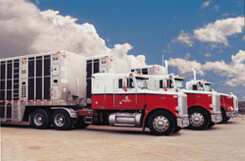 Hotsy carries over 100 models of electric, gasoline and diesel-powered pressure washers. Hotsy's hot-water pressure washer can cut through grease and oil, lifting it from the surface and washing it away. Our pressure washers are available in many configurations, including truck-mounted, skid mounted and trailer mounted.
Pressure washer accessories
Hotsy offers more than 10,000 parts and accessories for its pressure washers. For example, Hotsy's flexible wands and telescoping lances are perfect for cleaning hard-to-reach areas. Moreover, our undercarriage cleaners get underneath your vehicle where standard wands can't reach. Hotsy also carries a variety of nozzles, hoses and reels to suit any cleaning job.
Custom wash bay systems
An industrial wash bay system is a wise investment if you regularly clean multiple vehicles daily. Wash bays help save your operation time and money. At Hotsy, we can design and install a custom wash bay system to meet your specific cleaning needs, whether you need a single bay or multiple stations. We can also equip your wash bay with a water recycling system and hydrominder, which automatically mixes concentrated soaps with water.
Cleaners and detergents
Hotsy Water Blast offers a line of specialized cleaning detergents designed exclusively for use in the transportation industry. Hotsy detergents are available in several sizes and formulas and can cut through road film, grease and exhaust trails. For instance, Salt Lick is specially formulated to break down the crystalline structure of road salt and ice melt products, saving your vehicles from rust and corrosion.
Trust Hotsy Water Blast to clean your fleet
If you want to learn more about the pressure washer options available for your fleet, contact Hotsy Water Blast today. We'll perform a site analysis and advise you on the best equipment to keep your vehicles clean and running smoothly. Give us a call at one of our nine convenient locations in Edmonton, Calgary, Lethbridge, Red Deer or Grande Prairie, Langley (BC), Regina (SK), Williston (ND) or Bismarck (ND)