The Transportation Industry Trusts Commercial-Grade Pressure Washers to Keep Equipment Clean
Truckers can't afford delays so they rely on regular maintenance both under the hood and around the trailer. Industrial pressure washers are perfect for removing grime and road film and help protect your fleet from salt and chemicals used during the winter months.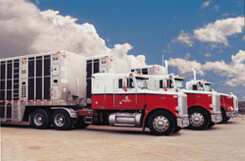 Hotsy Water Blast offers a wide selection of industrial-grade pressure washers that are used by the following transportation industries:
Shipping companies
Public transit systems
Car dealerships
Delivery vans
Taxi fleets
School bus fleets
Car rental companies
Airlines / Air freight companies
Railcars
Ferries
Hotsy Water Blast offers a line of specialized cleaning detergents, designed exclusively for use in the transportation industry. Designed to cut through road film, grease and exhaust trails, Hotsy detergents are available in a number of sizes and formulas.
Contact Hotsy Water Blast at one of our 9 convenient locations in Edmonton, Calgary, Lethbridge, Red Deer, Grande Prairie, Langley, Regina, Williston (North Dakota) and Bismarck (North Dakota). We'll perform a site analysis and advise you on the best equipment to keep your fleet clean and running properly. Give us a call today!