Pressure Washer Nozzles for Any Application
Picking the right nozzle for your pressure washer doesn't have to be intimidating – Hotsy Water Blast can help you. Learn Whether you are a commercial contractor who needs to clean up a job site or a homeowner who wants to give your driveway and siding a good washing, we have the equipment you need to get it done with ease.
When you are looking for the right pressure washer to fill your needs, you need to consider how important pressure washer nozzles are to the job you have in mind. Selecting the right nozzle degree or spray angle for your application is vital for the proper function. A nozzle that is too small can damage your equipment or surface whereas one that is too large may have its cleaning ability reduced.
There are a range of nozzle sizes available, such as:
Cutting nozzle – the cutting nozzle delivers a concentrated stream of water from your pressure washer. It gouges and cuts making it the ideal choice for removing stubborn stains from concrete and other hard surfaces.
Chiselling nozzle – The chiselling nozzle works at a 45° angle, acting like a scraper. It is generally used for stripping paint, grease, and grime for hard surfaces.
Flushing nozzle – The flushing nozzle is the most commonly used nozzle for cleaning dirt from things such as siding, sidewalks, and metal furniture. It is also used for wet sweeping of leaves.
Wash nozzle – The wide spray of the wash nozzle allows you to quickly rinse and wash a large area with ease. It is usually safe for most surfaces including aluminum siding, windows, and even vehicles.
Hotsy Water Blast carries a wide range of pressure washer parts at 9 convenient locations.
Nozzles
Ripsaw Rotating Turbo Nozzle – Specifically designed and engineered for the rugged Hydro-Excavation industry. Its cone shaped flow pattern is ideal for potholing applications. Non-conductive urethane coating on the nozzle body protects users and sensitive underground utilities. Complete jobs 35% faster than competitor nozzles to save time, water, and money. Extremely durable nozzle.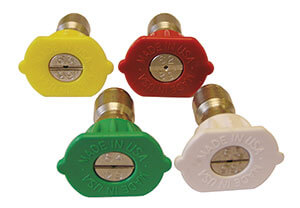 Colour-coded individual ¼" QC nozzles – QC colour-coded, hardened stainless steel nozzles that fit most ¼' couplers. These are rated for 4000 PSI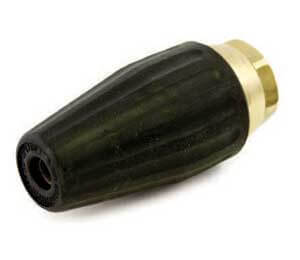 Suttner Turbo nozzles – The Suttner Turbo Nozzle is rated for up to 4350 PSI at 185°F. It spins at 4000RPM to deliver a faster and deeper cleaning action for the same price at many 3000 PSI rotary nozzles.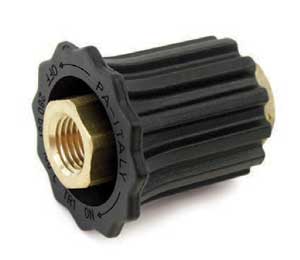 Adjustable fan nozzles – 3000 PSI maximum, this vari-fan nozzle easily adjusts from 0° to 80° fan size with a simple twist of the nozzle head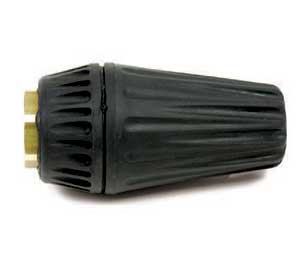 Rotojet nozzles – 0° impact and 25° pattern, the Rotojet nozzle has an exclusive design that eliminates start-up impact and damage to the internal nozzle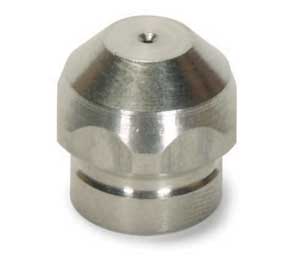 Stainless steel sewer nozzles – The reverse jets on the fixed and rotary nozzles pull the hose through the tube or sewer line while blasting debris from the line or tube wall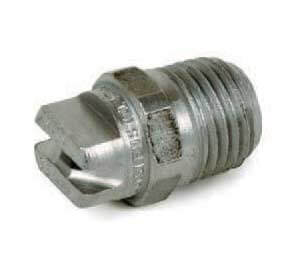 Spraying system nozzles – ¼" male pipe thread meg nozzles that are rated up to 4000 PSI. Made of hardened stainless-steel, ensuring consistent and accurate orifice size
To learn more about our pressure washer nozzles and wands and to request a quote, please give us a call today.
Hotsy Turbo Nozzle