Trust the Sanitizing of Your Food Processing Equipment to Hotsy Pressure Washers!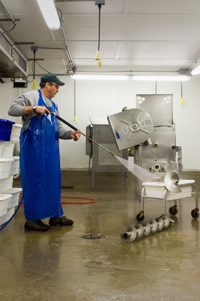 Food processing equipment must be properly cleaned to meet strict regulatory requirements in order to minimize the spread of harmful germs and bacteria. Don't take chances with unwanted down time due to an outbreak from an unclean environment.
Cleaning floors, workspaces and other equipment with a Hotsy hot water pressure washer is an effective cleaning method. Many food processing facilities chose Hotsy pressure washers to remove grease, grime and residue from food preparation areas because of water that reaches temperatures of up to 200°F.
Hotsy pressure washers are available in over 100 models, so you can imagine there is a solution available to clean your food service facility. Save time and money by selecting a pressure washer suited to your specific needs. Contact one of our 10 convenient locations to discuss the options available to you for this specialized need. In Alberta: Edmonton, Calgary, Lethbridge, Red Deer, Grande Prairie, in British Columbia: Langley; in Saskatchewan:  Regina; in North Dakota: Williston and Bismarck.