Trust the Sanitizing of Your Food Processing Equipment to Hotsy Pressure Washers!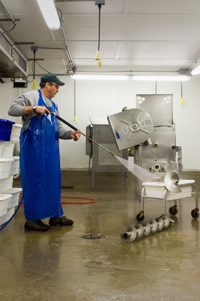 In the food processing industry, cleanliness is paramount. The Canada Food Inspection Agency has strict rules and regulations for the food handling and processing industry. Breaking these rules can lead to stiff penalties, not to mention an increased risk of food-borne illnesses.
A hot water pressure washer from Hotsy Water Blast may be the most important cleaning tool you ever buy for your food processing facility. We keep a large inventory so you can be assured of finding what you need with minimal wait time. We serve customers from 7 locations in Western Canada and 2 locations in North Dakota. Contact us today to find the perfect machine for your workflow.
Safeguard your food-based business
A substandard inspection or an outbreak from an unclean environment will result in unwanted penalties, downtime and a ruined reputation. Built to deliver water at more than 90 C, a hot water pressure washer can virtually eliminate harmful germs and bacteria from even the most hard-to-reach spaces. Use our pressure washers to clean floors, work spaces, kitchens and food handling surfaces.
Hotsy pressure washers are excellent cleaning solutions for:
Food processing facilities
Food manufacturing plants
Restaurants
Breweries
Wineries
Don't take chances. Choose from our selection of more than 100 pressure washer models.
Why choose a Hotsy pressure washer
Choosing a Hotsy hot water pressure washer for your operation has many benefits, including:
It protects your reputation. Today more than ever, consumers are more concerned about where their food comes from and how it's processed and handled. And they can express their concerns on various platforms, including social media. Viral videos of unsanitary conditions and questionable food handling practices can destroy your brand. Ensure you use top-of-the-line cleaning equipment in your facility.
It improves your product. Fresh ingredients processed and handled in a clean environment make things taste better. Keep your raw goods free from mould, bacteria and dirt by keeping your operations spotless and hygienic.
They're easy to use. A pressure washer from Hotsy is ergonomically designed and versatile. Using the machines requires no special training. They're convenient to use, and your employees will enjoy the experience. It's also a highly efficient cleaning method, so your employees can spend less time cleaning and more time on other essential tasks.
They're ecologically friendly. A hot pressure washer from Hotsy uses a fraction of the water needed for conventional wash-down methods. An in-plant pressure washer will reduce the need for harsh chemical cleaners.
They're customizable. Every food processing facility is different. Hotsy can customize a pressure washer system to your precise needs, creating your in-plant pressure washer for optimal efficiency. We can also custom design food processing machinery, such as meat high-pressure pumps and hydraulic unit services.
For optimal sanitation, choose from our selection of steamers and sanitizers. Pressure washing with a powerful and easy-to-use steam cleaning machine sanitizes and disinfects without chemicals. Our advanced disinfecting and sanitizing fogging machines, combined with Vital Oxide, will effectively decontaminate workspaces and public areas.
Western Canada's source for industrial and commercial pressure washers
Hotsy Water Blast pressure washers are designed to work for you, whether you manage a brewery, winery, restaurant or food processing plant. Visit one of Hotsy Water Blast's 12 convenient locations in Western Canada, including Edmonton, Calgary, Lethbridge, Red Deer or Grande Prairie in Alberta, Langley in BC, Regina in Saskatchewan and south of the border in Williston or Bismarck, North Dakota. Contact us today to learn more.