Hotsy Water Blast is the Leading Manufacturer of Coin-Op and Commercial Car and Truck Wash Systems in Western Canada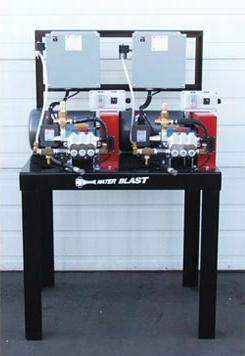 If you are looking for a car or truck wash system, look no further than the design professionals at Hotsy Water Blast. We are Canada's leading manufacturer of car and truck wash equipment, specializing in on-site vehicle washing systems or coin operated and time charge wand wash systems. With over 40 years in the business, we offer on-site service with the most knowledgeable staff in the industry.
Whether your business needs the ability for on-site vehicle washing or if you're in the market for a commercial car wash, Hotsy Water Blast is who you should call. Our experts can help you design and install a custom on-site wash bay system tailored to meet your specific needs. Or if it's a commercial car wash system you need, our design staff is equally up to the challenge to assist with building specs and equipment recommendations. Car and truck washes operate at a low cost but provide a high rate of return for investors. Call and find out more about the lucrative wand wash business. All Hotsy Water Blast equipment used in car and truck wash systems are CSA approved.
Hotsy Water Blast offers in-house or on-site service with the most knowledgeable staff in the industry. When you buy from Hotsy Water Blast you are dealing directly with the manufacturer, so give us a call to discuss how we can help. Manufactured at our main facility in Edmonton, we will provide equipment and installation in our 9 convenient locations. In Alberta: Edmonton, Calgary, Lethbridge, Red Deer, Grande Prairie. In British Columbia: Langley. In Saskatchewan: Regina. In North Dakota: Williston and Bismarck.