Commercial car and truck wash bay systems in Western Canada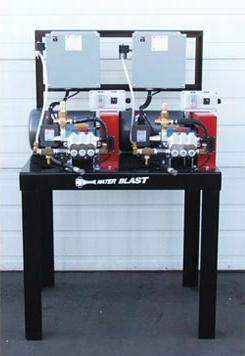 Do you need an affordable, state-of-the-art wash bay system? At Hotsy Water Blast, we have more than 40 years of experience designing and installing superior car and truck wash equipment, including on-site vehicle washing systems and coin-operated or time-charge systems. You can count on our knowledgeable staff to provide an ideal cleaning solution for your business.
Custom systems built according to your company's cleaning needs
Whether your business does on-site vehicle washing or you're launching a coin-op car wash, Hotsy Water Blast is here to help. Our experts will work with you to design and install a custom on-site wash bay system tailored to meet your specific needs. We offer a wide range of accessories and customization options, including:
A wide selection of pressure washer units, including models that can deliver both hot and cold water
Units that can be configured to support multiple users washing simultaneously
Wands and nozzles to suit any cleaning application, including variable wands to control the flow of detergent
Heavy-duty hoses of various lengths
Hose reels, booms and trolleys that allow users to easily move the hose around the vehicle when cleaning and keep it off the ground
A large selection of detergents and oversized detergent tanks so that you can buy in bulk and avoid frequent refilling
Retractable curtain walls to delineate washing areas and prevent overspray
Undercarriage cleaners to effortlessly clean the underside of vehicles
Wall-mounted remote controls equipped with switches for controlling power, heat and detergent
Coin-operated devices as well as card access technologies, including for credit cards
We also install water recycle systems and wash water treatment systems, which allow you to reduce water usage and/or meet environmental guidelines.
Are you starting a coin-op car wash?
Car and truck washes operate at a low cost but provide a high rate of return for investors. At Hotsy Water Blast, we provide you with all the cleaning equipment you need to start a profitable car wash. Our experienced team can even help with building specifications and equipment recommendations. All Hotsy Water Blast equipment intended for car and truck wash systems are CSA approved.
Do you need a wash bay for your facility?
If part of your operations involves washing down vehicle fleets or portable equipment, a wash bay may be a smart investment. A wash bay allows you to increase the efficiency of your operations and save money by having staff use a single pressure washer unit configured to accommodate several users washing simultaneously.
Contact us to learn more about our wash bay installation services
Hotsy Water Blast offers both in-house or on-site services in Western Canada and North Dakota. Contact us today to find out how we can help you build a profitable commercial car wash or a functional wash bay for your facility. Call us directly at your local Hotsy Water Blast branch in Langley, British Columbia; Regina, Saskatchewan; Williston or Bismark, North Dakota; or one of our five locations in Alberta: Edmonton, Calgary, Lethbridge, Red Deer and Grande Prairie.