Shipping & marine professionals: trust a Hotsy boat pressure washer for cleaning quickly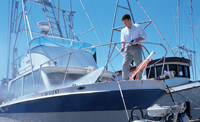 For over 40 years, Hotsy has helped keep commercial vessels, docks, decks and equipment free of the damage caused by constant exposure to saltwater, oil, algae and debris. Hotsy pressure washers eliminate the need for scrubbing by hand, saving you time, labour, money and downtime. They also have several environmental benefits.
Many memories of family fishing trips or boat trips end with a long and tedious session of scrubbing and wiping down the boat hull and deck. No more! Pressure washing is a fast and easy way to clean a boat hull and deck, and even carpets and other surfaces. However, to wash these different surfaces, you need a pressure washer that's adjustable and capable of delivering boat cleaning power without causing any damage. This is just one of the reasons why when you go to a marina or boatyard, you'll often find a customized Hotsy boat pressure washer.
Whether you own a large leisure boat or small fishing vessel, you need a Hotsy pressure washer. Hotsy Water Blast has nine convenient locations across Western Canada, including British Columbia, Alberta, Saskatchewan and North Dakota. Contact us today to learn more about what model of Hotsy pressure washer is best for your boat or marina.
Choosing the best pressure washer for boats: boat owners' tips
The best Hotsy pressure washer for boats is one of our gas-powered mobile units that can deliver about 2,000 to 3,000 PSI (about two to 2.5 gallons a minute). You can choose from various spray tips that are suitable for delicate surfaces and attachments like rotating brushes to make quick work of routine maintenance.
Boat owners tell us that using heated water with Hotsy biodegradable soap made for a pressure washer breaks down grime and lifts stains more thoroughly. After pressure washing, we recommend waiting a couple of days for before applying sealant.
Many boat owners with private docks also pressure wash the dock with their Hotsy pressure washer at the same time as they clean their boat, getting rid of slippery algae, oil, mould, mildew and other safety hazards.
Our customers tell us that the professional cleaning of with a Hotsy boat pressure washer pays off in a multitude of ways, including:
More recreational time on the water and less time spent at the dock and cleaning the boat by hand
More enjoyment of the craft when it's clean and glossy
More frequent cleaning because it's so quick and easy to do
Less downtime for commercial boats
Better sale price at resale
With more than 100 models to choose from, you're sure to find a Hotsy boat power washer to suit your needs.
Environmental benefits of using a pressure washer for boat cleaning
Another benefit of pressure washing your boat, trailer and equipment with a Hotsy pressure washer is that you can clean off contaminants and invasive species that attach themselves to your vessel and get into the next lake or river you enter. This is especially important for the containment of whirling disease, which is becoming more prevalent in Western Canadian waters.
Caused by a microscopic parasite, the condition causes skeletal abnormalities in trout and whitefish. Infected fish swim in a whirling fashion, making it difficult to feed and vulnerable to predators. The parasite has been migrating through lakes and rivers, and hitching rides on boats, trailers, fishing equipment, footwear and hip waders.
Elsewhere, in Yellowstone National Park in Wyoming, park officials have placed two Hotsy high-temperature pressure washers at key entrances to the park. According to a 2017 issue of the Yellowstone Insider, the move is to help prevent out-of-state boats from bringing zebra mussels, an invasive species spreading rapidly across North American waterways, into the Yellowstone ecosystem.
Hotsy encourages all boat owners to be aware of their impact on the environment and keep their boats clear of chemical contaminants and non-native fauna.
Can you use a pressure washer on fibreglass?
It's possible to pressure wash a boat hull made of fibreglass, although you must take precautions. Using too much pressure can remove the protective layer of gelcoat. Therefore, use a low-pressure setting and a black, wide fan-tip nozzle to spray on a Hotsy detergent. Allow the boat soap to soak on the surface for five to 10 minutes before rinsing. Keep the pressure washer nozzle at least one metre away from the boat bottom.
Marine pressure washer sales and service in Western Canada and beyond
No matter what type of marine pressure washing you face, wharf-side or on deck, pontoon boat or cabin cruiser, Hotsy has a pressure washer suited for your needs. A pressure washer offers a mobile cleaning solution around ports or yacht clubs. You'll find a Hotsy marine pressure washer in the following locations:
In Alberta: Edmonton, Calgary, Lethbridge, Red Deer, Grande Prairie
In British Columbia: Langley
In Saskatchewan:  Regina
In North Dakota: Williston and Bismarck
Give us a call today to speak with a representative.