Skid Mounted Pressure Washers – Mobile Cleaning
Hotsy Water Blast can design a Skid Mounted Pressure Washer/Steamer combination to provide everything you need for cleaning on the go. Equipped with a commercial grade pressure washer/steamer and a water storage tank, a skid kit will allow you the mobility needed for cleaning from one location to another.
Hot Water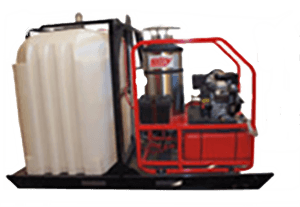 Hotsy Skid Mounted 1260
600 gal water tank
3000 psi
4.3 gal/min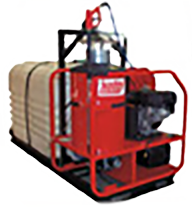 Hotsy Skid Mounted 965SB
220 gal water tank
3000 psi
3 gal/min
Cold Water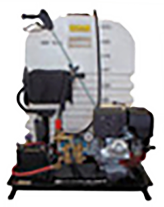 WB2004 Skid Mounted
220 gal water tank
2000 psi
4 gal/min
Mobile Cleaning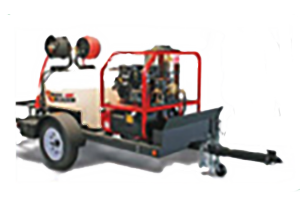 Trail Blazer Self-Contained Trailer System
20 gal water tank
No Utilities needed
You select the hot water washer that fits your needs!
Self-contained and designed to hold up under the toughest of conditions, skid mounted pressure washers/steamers can be bolted onto the back of a truck, allowing for the ultimate in mobility. Powered by name brand engines like Honda and Vanguard, it's easy to see that Hotsy's are built to last, with welded frames, powder-coated painted surfaces and stainless-steel coil towers.
Many professionals, whether industrial cleaning, oilfield services, farming or contract cleaning have learned that a skid mounted pressure washer/steamer system provides efficient cleaning and quickly pays for itself by saving labour, effort and time.
Contact us or call one of our 9 convenient locations to learn more about the skid mounted pressure washer options that would best serve your needs; in Alberta: Edmonton, Calgary, Lethbridge, Red Deer and Grande Prairie; in British Columbia: Langley; in Saskatchewan:  Regina; in North Dakota: Williston and Bismarck.