Hotsy Water Blast reduces downtime with pressure washer repair services
Why replace your pressure washer when a professional repair can prolong the life of your machine? Hotsy Water Blast offers a wide range of pressure washer repair and maintenance services for homes and industries across Western Canada. We have more than 40 years of experience and will do everything we can to keep your costs at a minimum.
Contact us today for prompt, dependable pressure washer repairs and maintenance in Alberta, British Columbia, Saskatchewan and North Dakota.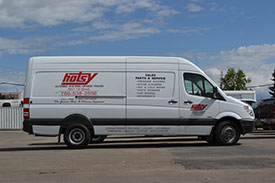 Repairs for pressure washers and other cleaning equipment
You can drop off your machine at one of our convenient locations. Our in-house technicians can repair all makes and models of pressure washers. We perform pressure washer repairs in a timely manner using only parts approved by Hotsy Water Blast.
We also perform repairs on other cleaning equipment, such as:
On-demand mobile repair service
We know time is money, and the last thing you need is to lose precious hours waiting for an equipment repair. That's why we offer our customers a range of mobile services. At your request, an experienced Hotsy Water Blast technician will arrive at your facility equipped with the parts and tools to assess your problem and make standard repairs. We'll get your pressure washer working as soon as possible.
Worry-free scheduled maintenance
Sign up for our pre-scheduled maintenance program, and you'll never have to worry about scheduling oil changes, lubrication and other essential maintenance tasks for your equipment. A technician will visit your job site and conduct a 50-point inspection on every machine, keeping your pressure washer system working correctly and preventing costly breakdowns.
Hotsy Water Blast's preventative services cost very little and lengthen the life of your equipment considerably. The benefits certainly outweigh the costs.
Pressure washer installation
Hotsy Water Blast provides custom pressure washer system installation services. With a trained and certified technician, you know your equipment and accessories are installed correctly, from small portable pressure washers to extensive stationary systems with multiple cleaning bays. Besides pressure washer systems, we install:
Our installation experts will come to your worksite and are certified to hook up equipment to natural gas lines.
Pressure washing leasing and rental
Renting a pressure washer is perfect for businesses that don't have the budget to buy one or the space to store it. It's also an excellent choice for companies with only rare or annual cleaning tasks. We have a wide selection of gas and electric pressure washers you can take to your job site and return the next day.
Leasing your pressure washer means you have all the benefits of ownership without the upfront costs of purchasing. We'll tailor your monthly rates to suit your budget, and you may be eligible to receive tax deductions on the payments.
Pressure washer design and engineering services
If we don't sell it, we'll build it. We employ a full-time in-house engineer who can custom manufacture a pressure washer unit that meets your unique needs. If you don't know what type of cleaning system your business requires, one of our cleaning consultants will visit your facility to assess your site and determine the best setup.
We know that costs are a critical factor in any business decision you make. We pride ourselves on designing efficient systems that deliver optimal operation at minimal expense. 
Pressure washer services in Western Canada and North Dakota
For pressure washer repair and maintenance services from experienced, certified technicians, you need Hotsy Water Blast in your corner. We serve commercial, industrial and residential customers from our locations in Alberta: Edmonton, Calgary, Red Deer and Grande Prairie; in British Columbia: Langley; in Saskatchewan: Regina; in North Dakota: Williston and Bismarck. Contact us to schedule an appointment for inspection or repairs.