Diesel pressure washers
Diesel pressure washers offer many advantages and are ideal for businesses wishing to streamline their cleaning processes. If you're shopping for a heavy-duty diesel pressure washer in Western Canada or North Dakota, Hotsy Water Blast has got you covered. We're happy to answer your questions about our washers, cleaning products and more. To get additional information, get in touch with us — our team is standing by.
Hot water pressure washers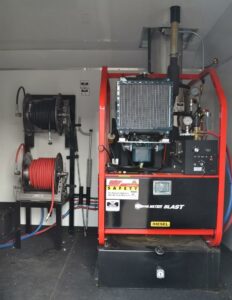 Hotsy carries a number of diesel-powered hot water pressure washers that are designed to effortlessly cut through stubborn grease and grime. You can count on them to clean the dirtiest equipment and surfaces. Here's an overview of the diesel pressure washer models we carry:
The pressure washers in the Super Skid HSS Series are the largest and most powerful units available in the Hotsy line. Consequently, they're ideal for heavy-duty, on-site cleaning where electricity is not available. They're rated for continuous use and can provide up to 9.5 GPM and 3,000 PSI of cleaning power. HSS Series models feature two fuel tanks for long operation times and high efficiency. Furthermore, they're powered by Kubota engines with electric start and feature a foil-backed insulated Schedule 80 heating coil with stainless steel skin and a 5-year warranty.
The pressure washers in the Hotsy 1200 Series provide up to 6 GPM and 4,000 PSI of on-site cleaning power. These self-contained units feature an electric start for easy operation, and five models come with a 2,000W generator. In addition, all 1200 Series models are equipped with a standard flow switch and the reliable Hotsy triplex belt-driven high-pressure pump that has a 7-year warranty, as well as ETL and CSA certification.
These stationary hot water pressure washer models are commonly used in wash bays to clean vehicles and equipment, as well as restaurants to keep floors and worktables clean. Furthermore, they can be located in a shed or separate room to protect against weather damage, overspray and operator abuse.
Skid-mounted pressure washers
If you need a powerful and portable cleaning solution, a diesel-powered skid-mounted pressure washer is your best bet. Hotsy Water Blast carries several customizable hot water models that can be bolted onto the back of a truck, van or trailer to help you streamline your operations and maximize efficiency.
Hotsy's skid-mounted pressure washers are powered by reliable, name-brand engines like Honda, Kubota, Briggs and Vanguard. They also feature heavy-duty welded frames, powder-coated painted surfaces and stainless-steel coil towers to withstand the harshest conditions. Here's an overview of two of the hot water skid-mounted models we offer:
The Hotsy 1260SSD delivers up to 4.5 GPM at 3,000 PSI. The skid is made of heavy-duty welded steel and can be moved using a forklift. Furthermore, it comes equipped with a 600-gallon water tank made of one single piece of seamless polyethylene that won't crack, rust or corrode.
The Hotsy 965SB is a slightly smaller model with a 220-gallon water tank that provides up to 3 GPM and 3,000 PSI of power.
Both models are ideal for culvert thawing, steaming applications and removing caked-on grease and oil. They feature a 12V electric start, as well as a rugged roll cage design to protect the stainless-steel coil and engine. You also have the option to add a steam kit, a 100' 3/8" hose and wand, as well as an anti-freeze tank.
Advantages and applications of diesel pressure washers
Diesel pressure washers are ideal for outdoor cleaning tasks. In fact, they must be used outdoors. Due to their exhaust fumes, they're unsuitable for use in any kind of enclosed space unless proper ventilation is provided.
Diesel is an efficient power source, and like gas-powered units, these washers offer maximum portability. Here are some other advantages offered by diesel pressure washers:
Perfect for skid-mounting
Since they don't need to be plugged in, diesel pressure washers can be skid-mounted on the back of a truck, van or trailer. This is a great option for cleaning services and other companies that move between work sites. With the right hoses and reels, you can operate the pressure washer from up to 250 feet away from the unit.
Ideal for remote worksites
If you need to use your pressure washer in remote areas, a diesel pressure washer is a practical option. Since it doesn't need to be plugged in, it can be used anywhere. Plus, you don't need to worry about it getting exposed to the elements. Hotsy pressure washers are heavy-duty and can withstand harsh weather conditions and clean even the dirtiest worksites.
Great for outdoor cleaning
Diesel pressure washers are ideal for cleaning large outdoor surfaces such as building exteriors, parking lots, paths, signs and sidewalks. The portable units come mounted on easy-to-manoeuvre trolleys and can be used to help clean large areas with optimal efficiency.
A range of customization options
Hotsy pressure washers can be customized to meet nearly any company's cleaning needs. Our team can help you determine the ideal configuration for yours and ensure you use the right set-up, accessories and water temperature to maximize your unit's cleaning power.
Hotsy Water Blast's selection of accessories includes various nozzles, wands, guns, hoses and hose reels. The Hotsy Turbo Nozzle, for example, can be used to remove tenacious oil and grime. This attachment creates a narrow, concentrated stream that spins in a rotary motion, resulting in a more efficient and effective clean.
Our team can also help you determine which kinds of detergent are best for your cleaning projects. Hotsy has over 50 types, including products designed for washing transport vehicles, degreasing heavy equipment, cleaning aluminum, breaking down ice and removing graffiti.
Hotsy diesel pressure washers in Western Canada
If you're shopping for a diesel pressure washer in British Columbia, Alberta, Saskatchewan or North Dakota, trust the team at Hotsy Water Blast to set you up with a cleaning system that's tailored to your needs. In addition, we carry both portable and stationary electric and gas-powered pressure washer units, as well as accessories and detergents for your commercial cleaning needs. We also provide comprehensive maintenance and to ensure your pressure washer remains in top shape for years to come. Contact us today to speak with one of our experts.