The Water Maze Compact CoAg Treatment System Removes Suspended Solids, Emulsified Oils, and Precipitated Metals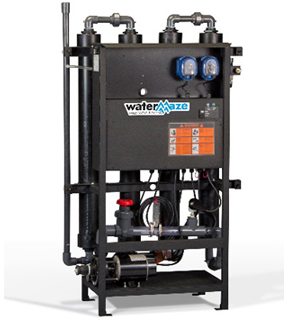 The Water Maze Compact CoAg System incorporates many of the robust features of the larger CoAg2-20A in a compact size that is suitable for flow rates up to 20 GPM. It can be used on its own as the primary water treatment system, or as a pre-treatment system with other Water Maze technologies, such as Electro-Coagulation, Bioremediation, or Filtration.
The Compact CoAg is usually combined with a clarifier/settling tank fitted with unique internal piping and an auto-purge system to evacuate the concentrated contaminants for convenient disposal. When combined with the Water Maze IPF2-20 Indexing Polishing Filter, the contaminants are separated from the water, producing a clarified stream that may be recycled or discharged (as allowed by local regulations).
For more information on the Compact CoAg System and available options and upgrades, please contact Hotsy Water Blast at or call one of our 9 convenient locations. In Alberta: Edmonton, Calgary, Lethbridge, Red Deer, Grande Prairie. In British Columbia: Langley. In Saskatchewan:  Regina. In North Dakota: Williston and Bismarck.