The Water Maze Steel Wash Pads are a Compact Above-Ground Wash Pad Designed to Capture Wash Water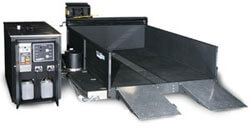 Hotsy Water Blast carries the Water Maze WP wash pad, suitable for above-ground cleaning of vehicles and mobile equipment. The unique collection system provides pre-treatment of the wash water and sludge. By connecting a wastewater treatment system, you can create a totally self-contained wash rack and recycle system.
The WP features two heavy-duty non-skid ramps hinged so they fold up vertically and out of the way of traffic. The WP offers a total containment design with removable panels low enough for you to power wash over the top from outside of the pad, yet high enough to reduce overspray.
For more information on the Water Maze Steel Wash Pads and available options and upgrades, please contact Hotsy Water Blast at or call one of our 9 convenient locations. In Alberta: Edmonton, Calgary, Lethbridge, Red Deer, Grande Prairie. In British Columbia: Langley. In Saskatchewan:  Regina. In North Dakota: Williston and Bismarck.