Hotsy Water Blast: supplying equipment to rugged industries for 40 years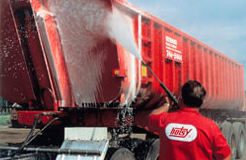 Hotsy brand pressure washers fulfill the needs of cleaning professionals in various industries. We also manufacture customized equipment to meet the unique needs of your specific operations. Contact us at one of our nine locations in Western Canada and North Dakota or use our online form to request a quote.
A Hotsy solution for any industry
Here's an overview of the many types of businesses that have profited from using our high-pressure cleaning and customized equipment.
| | |
| --- | --- |
| Agriculture. Farmers need pressure washers that work as hard as they do. Whether you need to sanitize coops, stables and cattle trailers or remove caked-on dirt and grime from large agriculture equipment, Hotsy Water Blast has a pressure washer to meet the demanding needs of your farming operation. | |
| Construction. Hotsy Water Blast carries an impressive selection of commercial pressure washers for cleaning heavy-duty equipment like trucks, tractors and excavators. Our team can help you find the perfect heavy-duty high-pressure washer and attachments for your operation, like an undercarriage cleaner and telescoping lance. | |
| Transportation. If you own a large fleet of semi-trucks and trailers, you know that keeping them clean and well-maintained is of the utmost importance. Hotsy Water Blast carries many industrial pressure washers that quickly remove grime and road film to protect your vehicles from rust and corrosion. | |
| Manufacturing. Cleanliness is crucial to operating efficiency and cost control in a factory. Debris, grease and dust can quickly clog sensitive processing equipment, leading to costly downtime. We carry various pressure washers designed for the manufacturing industry to keep your facility hygienic and compliant. | |
| Oil, gas and mining. Hotsy Water blast designs and manufactures rugged, reliable pressure washers to meet the unique cleaning needs of the oil, gas and mining industries. Our diesel-fired units are ETL certified to UL-1776 safety standards. Many models can also be truck- or skid-mounted for the ultimate in portability. | |
| Food processing. The Hotsy teams know that hygiene is paramount in the food processing industry. That's why we carry various electric pressure washers that are quiet and completely safe for indoor use. We also carry Vital Oxide, a Health Canada and EPA-registered disinfectant, odour eliminator and mould killer. | |
| Waste management. Waste haulers, dumpsters and other large trash handling equipment routinely get covered with grease, grime and other hard-to-remove debris. Hotsy's hot water pressure washers and specially formulated detergents blast away caked-on dirt with ease. | |
| Marine. Hotsy can help you keep your commercial vessels, docks, decks and equipment safe from damage caused by constant exposure to saltwater, oil, algae and debris. No matter the job, Hotsy has a pressure washer suited to your needs. | |
The Hotsy Water Blast team also designs and installs custom cleaning solutions for businesses with unique cleaning needs. Whether you need an in-plant unit, or several wash bays, we have you covered.
Industrial pressure washers in Western Canada and North Dakota
At Hotsy Water Blast, we're committed to customer satisfaction. That's why we manufacture custom equipment designed to your specifications. Let us know what you need, and we'll figure out how to make it happen.
Contact us at one of our nine convenient locations, including Alberta: Edmonton, Calgary, Lethbridge, Red Deer, Grande Prairie; in British Columbia: Langley; in Saskatchewan: Regina; in North Dakota: Williston and Bismarck.