Keep Industrial Equipment Clean & Sanitary with Pressure Washers from Hotsy Water Blast
Manufacturers need to keep processing equipment in proper working order to avoid unwanted and costly breakdowns. Moreover, keeping your facility clean and hygienic will ensure your operations are in compliance with all government regulations. Hotsy pressure washers are a perfect add-on in a manufacturing facility to keep equipment clean and sanitized.
Hotsy keeps your factory clean
Cleanliness is crucial to operating efficiency and cost control in a factory. Uncontrolled debris, grease and dust will quickly clog sensitive processing equipment, causing delays and downtime for repairs. Installing a Hotsy pressure washer as part of the production workflow gives you the upper hand on dirt and grime. Contact Hotsy today to learn more about our pressure washers for the manufacturing industry.
Electric pressure washers
With a plethora of models to choose from, you're sure to find a Hotsy Water Blast pressure washer suited to your needs. We have a wide selection of industrial-grade diesel, gasoline and electric power washers. Electric models emit no exhaust fumes and are excellent for indoor use. They're also quieter than fuel-powered models.
Our hot water pressure washers are designed to deliver powerful jets at more than 90 C, so they easily remove grease or oil and sanitize as they clean.
Custom washer solutions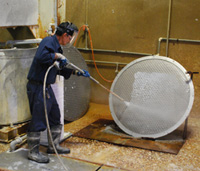 We can customize equipment to meet your needs so that you can integrate in-plant cleaning into the production flow. For instance, a natural gas-powered pressure washer can be installed to take advantage of an existing fuel source. With proper cleaning and maintenance, you have fewer equipment breakdowns and can save labour by speeding up the cleaning process.
Industrial pressure washers in British Columbia, Alberta, Saskatchewan and North Dakota
As a pressure washer and parts washer manufacturer, Hotsy Water Blast can make any custom cleaning solution for your operation. In Alberta, you can find a Hotsy Water Blast in Edmonton, Calgary, Lethbridge, Red Deer or Grande Prairie. You can also visit us in Langley (BC), Regina (SK), Williston (ND) or Bismarck (ND). Contact us today to find the right solution for your operation.