Hours:
Monday:
8:00 AM - 5:00 PM
Tuesday:
8:00 AM - 5:00 PM
Wednesday:
8:00 AM - 5:00 PM
Thursday:
8:00 AM - 5:00 PM
Friday:
8:00 AM - 5:00 PM
Saturday:
Closed
Sunday:
Closed
Hotsy pressure washers in Bismarck, North Dakota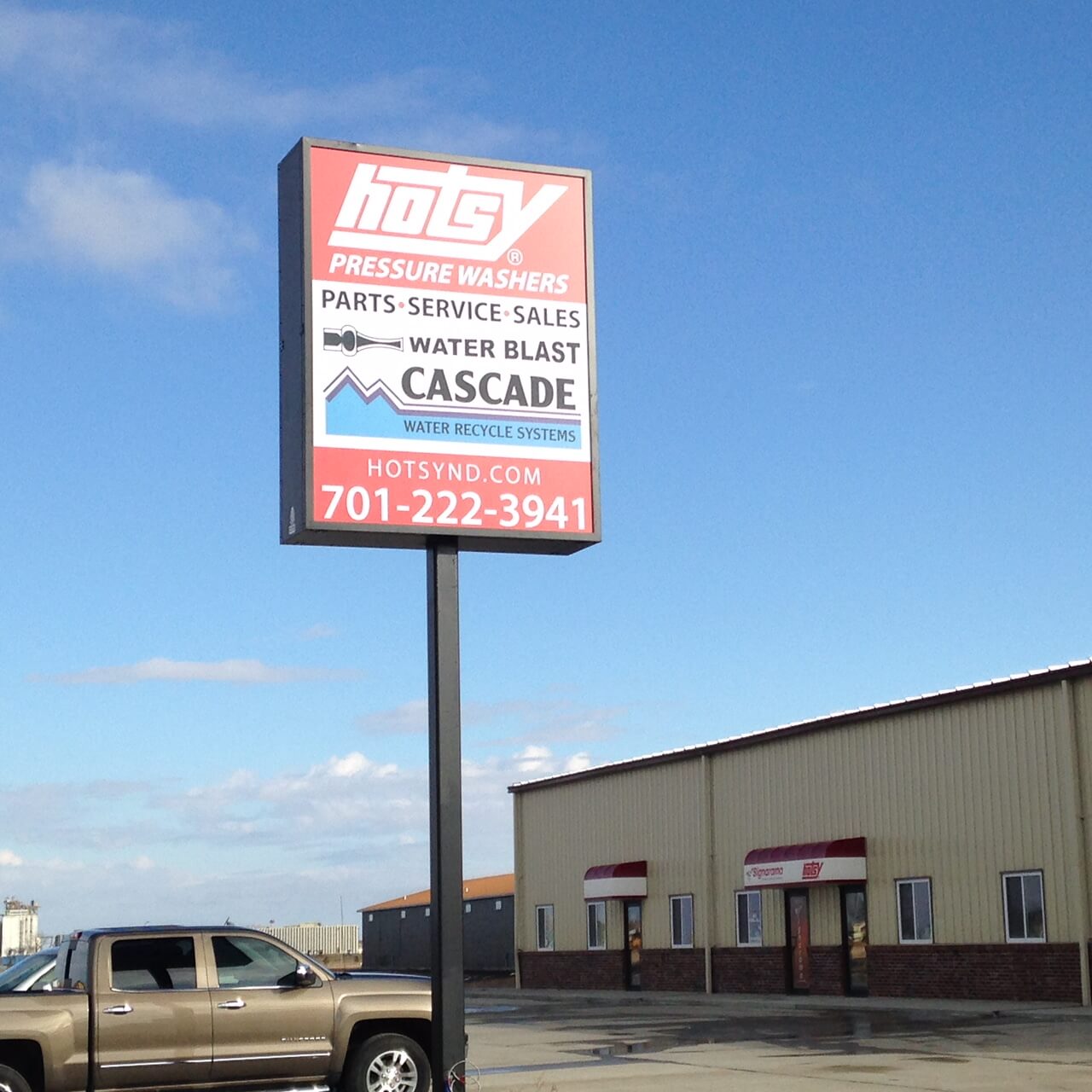 A high-quality,
industrial pressure washer
is an integral asset for any agricultural operation in North Dakota. A
power washer
from Hotsy Water Blast is the best cleaning tool for your farm machinery, equipment and vehicles. Hotsy's branch in Bismarck is North Dakota's flagship location, serving customers in the state's agriculture and oil and gas industries for years.
Choose the model that's best for you
With more than 120 models to choose from, you're sure to find a cleaning solution that's right for you at Hotsy Water Blast in Bismarck. Here's an overview of some of our quality products.
Hot water pressure washers. A cold-water pressure washer will remove caked-on dirt and mud. But a hot-water pressure washer cuts through tough grease and oil that can choke your agricultural equipment. Reaching temperatures up to 200 degrees Fahrenheit, hot water breaks up oil and grease, removing it rather than pushing it around.
Electric pressure washers. An electric powered pressure washer is ideal for indoor use because it doesn't emit exhaust fumes. Also, it makes less noise than a gas- or diesel-powered pressure washer. And although it requires an electrical outlet, you get greater cleaning range with 50- and 300-foot hoses and hose reels without moving the machine.
Gasoline and diesel pressure washers. Clean anywhere with a gasoline or diesel-powered pressure washer without the need for an electricity supply. A gasoline or diesel powered pressure washer is perfect for skid mounting, increasing portability for cleaning outdoor surfaces such as buildings and sheds, and for use at remote worksites. Skids are custom built to fit in truck and UTV beds. Both electric start and pull start models are available. A gas or diesel pressure washer can also come with a hot water feature.
Pressure washer leasing
If you need a pressure washer but don't have the money to purchase one, consider Hotsy's pressure washer leasing service. Leasing lets you start working with your pressure washer today with no money down. Our flexible financing options mean you'll find a pressure washer that won't put pressure on your bank account. Furthermore leasing payments are tax-deductible and you will not need to take out a bank loan.
Pressure washer repair
Hotsy pressure washers are durable and rugged, but we all know nothing lasts forever. Hotsy's pressure washer repair service will get your machine running again quickly, so you don't lose valuable time. Our experienced technicians have the tools and know-how to fix any pressure washer malfunction.
If you don't have the time to bring your machine to our Bismarck location, take advantage of our mobile repair service. Our technicians will come to you in trucks fully stocked with tools and parts, no matter where your farm is located in North Dakota.
Pressure washer maintenance program
Avoid costly repairs by signing up for Hotsy's scheduled maintenance inspections. A trained Hotsy professional will help you protect your investment with regular inspections, so you keep your pressure washer in optimal condition.
Industrial pressure washer sales and repair in Bismarck
From the farm to the Bakken, Hotsy Water Blast has a cleaning system for your agricultural operation. We'll work with you to create a custom-built cleaning system that'll keep your machinery, equipment and vehicles clean and operating at their best. Contact us at our flagship location in Bismarck today to learn more about our products and services.