Hours:
Monday:
8:00 AM - 5:00 PM
Tuesday:
8:00 AM - 5:00 PM
Wednesday:
8:00 AM - 5:00 PM
Thursday:
8:00 AM - 5:00 PM
Friday:
8:00 AM - 5:00 PM
Saturday:
Closed
Sunday:
Closed
Hotsy Pressure Washers & Service in Regina, Saskatchewan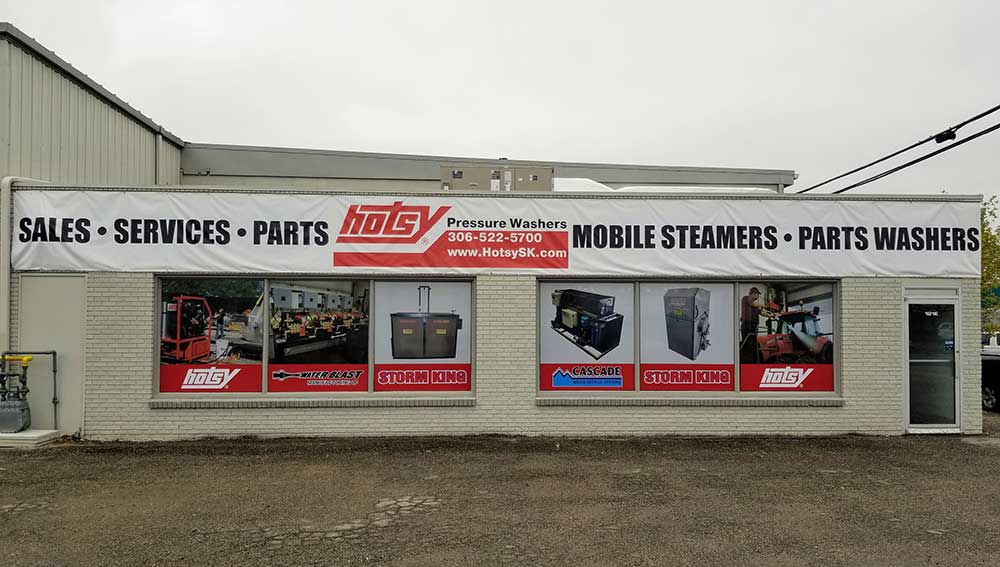 If you seek an industrial pressure washer in Regina, then be sure to turn to Hotsy Water Blast, the industry leader in pressure washers and industrial cleaning systems for over 40 years. We carry a wide variety of products, and if we don't sell it then we will custom build it for you. Don't settle for anything less than the most rugged and dependable name in pressure washing. For automatic parts washers, insulated caustic dip tanks, water treatment systems, and, of course, hot or cold industrial pressure washers in Regina, we have the highest-quality units waiting for you.
Sales and Service Centre
As a sales and service centre, Hotsy Water Blast in Regina offers numerous options for cleaning, such as:
Personal and commercial pressure washing
Parts washing
Complete water treatment systems
In the Shop
At the Hotsy Water Blast location in Regina, we offer a fully stocked parts room and an on-site service centre to keep your purchase from breaking down. Simply drop off your machine at our local branch and we'll have it working as good as new when you pick it up again.
On Location
Our services are also available on-location, so you don't have to disconnect your stationary unit and haul it in for service. If your pressure washer breaks down then a factory-trained Hotsy Water Blast technician will travel to your facility to repair things back to a fully functional state. Time is money, so don't wait any longer than you have to when your equipment is down. Our 50-point inspection is a part of our service maintenance agreement program and will keep your pressure washer working properly. Let Hotsy Water Blast take care of all your pressure washer servicing needs!
We Manufacture Over 100 Industrial-Grade Hot and Cold Pressure Washers
If you have something that needs a thorough cleaning, we can make the right machine for you. In addition, we carry all the parts, accessories, and biodegradable detergents, in whichever amounts or sizes, needed to enhance the pressure washing experience. With over 100 industrial-grade hot and cold pressure washers, stationary or mobile, you will be able to find whatever you need for what you need it for. Hotsy machines can be mounted on skids, trucks and trailers so your Hotsy units cleaning power can be deployed to remote job sites.
We Service All Pressure Washers
Don't have a Hotsy yet, but still need a fix? Bring down any make or model of pressure washer to our service centre, and our technicians will repair them as well. We work on all cleaning machine parts for washers, hydrovacs, and more.
Stop by Today
Contact our Regina location today to schedule a service call, installation or book an appointment to drop off your machine for repair today. Come down in person to browse Hotsy Water Blast products in our impressive showroom. We look forward to seeing you!