In-plant pressure washer systems for production process integration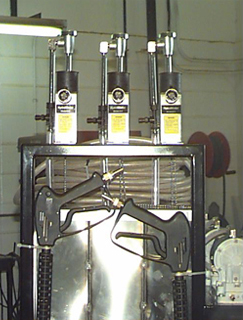 At Hotsy Water Blast, we sell and service a full range of Hotsy pressure washers and accessories. We also manufacture our own line of cleaning systems. For in-plant cleaning, consider a customized pressure washer system designed to integrate seamlessly into your company's production process. Our affordable in-plant cleaning solutions are efficient, easy to use and will save your manufacturing facility time and money.
Industrial-grade pressure washers tailored to your cleaning needs
An in-plant high-pressure pressure washer is ideal for blasting away dust and debris as well as washing and degreasing manufacturing equipment. Pressure washers are available in hot- and cold-water configurations, and for more efficient operation, can be piped to existing natural gas lines and vented within your plant.
At Hotsy Water Blast, we recommend quiet, energy-efficient and exhaust-free electric units for food processing and indoor cleaning applications. This includes removing dust and debris from the floors and surfaces of your manufacturing facility and washing and sanitizing production equipment. Please note that all Hotsy Water Blast equipment is CSA approved.
On-site evaluations and expert advice
The knowledgeable staff at Hotsy Water Blast can perform an on-site evaluation of your facility to recommend the best equipment for your needs. Our engineers can also create a custom solution to ensure you have the right set-up and ample cleaning power. With more than 40 years of knowledge and expertise, Hotsy Water Blast is your trusted partner when you require a dependable, time-saving cleaning solution.
Mobile maintenance and repair services
Equipment issues and breakdowns can slow your business operations. That's why Hotsy Water Blast provides mobile repair services throughout Alberta, British Columbia, Saskatchewan and North Dakota. To respond to problems right away, we have 18 service trucks fully stocked with pressure washer parts and tools.
We also offer scheduled maintenance programs to help avert breakdowns and extend the lifespan of your in-plant pressure washer system.
Do you have questions about our in-plant cleaning solutions?
To learn more about our in-plant pressure washer systems, contact us toll-free at one of our nine convenient locations. Contact your local Hotsy Water Blast branch in Langley, British Columbia; Regina, Saskatchewan; Williston and Bismarck, North Dakota; or one of our five locations in Alberta, in Edmonton, Calgary, Lethbridge, Red Deer and Grande Prairie. Our knowledgeable staff is available to speak with you right away.