Introducing the revolutionary KM 70/20 C Floor Sweepers from Kärcher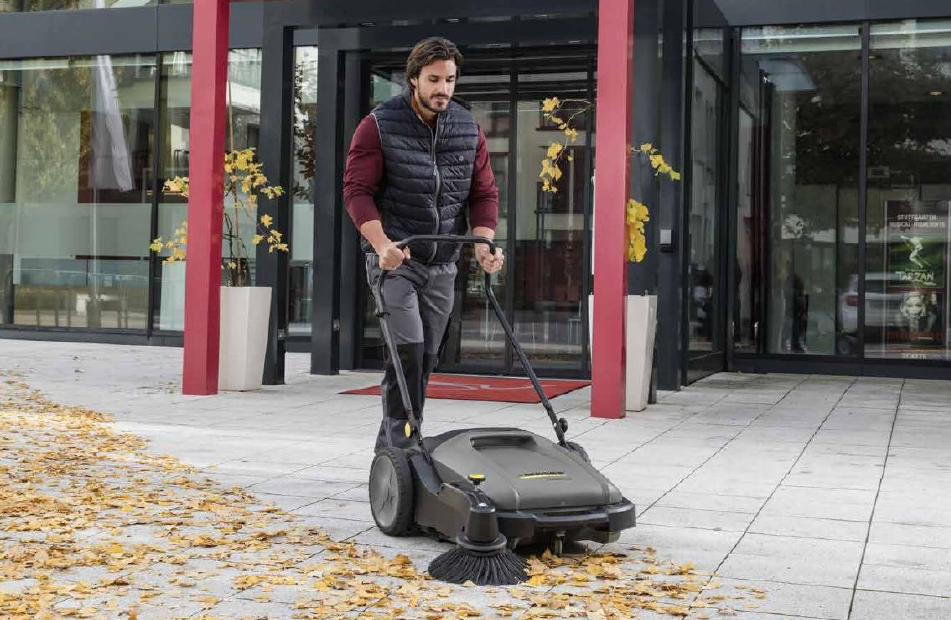 Save time and effort on the dustiest floors with Kärcher KM 70/20 C floor sweepers, the machine that's revolutionizing floor care in residential, commercial and industrial settings. Hotsy Water Blast now carries this cutting-edge product in our arsenal of cleaning equipment.
Serving residential, commercial and industrial customers in Western Canada and North Dakota, Hotsy Water Blast is an industry leader in cleaning solutions. Contact us today to find a Hotsy location near you and get a quote on the KM 70/20 C floor sweeper.
How does KM 70/20 floor sweeper work?
The KM 70/20 C is a manual floor sweeper, so there's no need for cords, gasoline or noisy engines. The unit houses a series of roller brushes, which grab dirt, dust and even small litter from the floor surface and throw it into a 20-litre hopper, where it stays. A cylindrical side broom sweeps dirt away from walls and other tight spaces, making cleaning even easier.
One of the standout features of the KM 70/20 C is its versatility. It can handle a wide range of floor types, including concrete, tile and hardwood — both indoors and outdoors. This adaptability makes it suitable for various industries, from warehouses and factories to shopping centers and office buildings.
4 benefits of using floor sweepers
Incorporating the KM 70/20 C floor sweeper into your cleaning equipment has numerous benefits.
1. Efficiency. The Kärcher KM 70/20 C is exceptionally efficient, covering a large cleaning area in a single pass. Its powerful brushes ensure a thorough cleaning job, reducing the need for manual broom sweeping and saving time and labour costs. In fact, it can cut sweeping time by as much as 35 per cent.
2. Dust control. Thanks to its advanced design, this sweeper captures dirt and dust in its hopper instead of stirring it around like brooms do. Also, a special dust filter ensures fine particles stay inside the unit. This feature is essential in environments where dust control is a priority, such as manufacturing plants or cleanrooms.
3. Ergonomic design. Kärcher has designed the KM 70/20 C with user comfort in mind. The machine is easy to manoeuvre, even in tight spaces and features adjustable handlebars for operator convenience. Cylindrical side brushes allow you to clean tightly beside walls and curbs in one pass.
4. Quiet operation. Unlike some industrial cleaning equipment, the Kärcher KM 70/20 C has no engine, vacuum or motors, so it operates soundlessly. Quiet operation makes this product perfect for use during business hours without causing disruption.
The KM 70/20 C is available in single or double (2SB) side broom models.
Floor sweepers in B.C., Alberta, Saskatchewan and North Dakota
Whether you have sidewalks and paths or a warehouse floor, wherever you need a heavy-duty surface cleaner, Hotsy Water Blast has the ideal solution, including the Kärcher KM 70/20 C floor sweeper. We serve customers in Western Canada or North Dakota. Contact us today to find a location near you.