Scheduled Maintenance Program
Scheduled pressure washer maintenance helps protect your equipment and your investment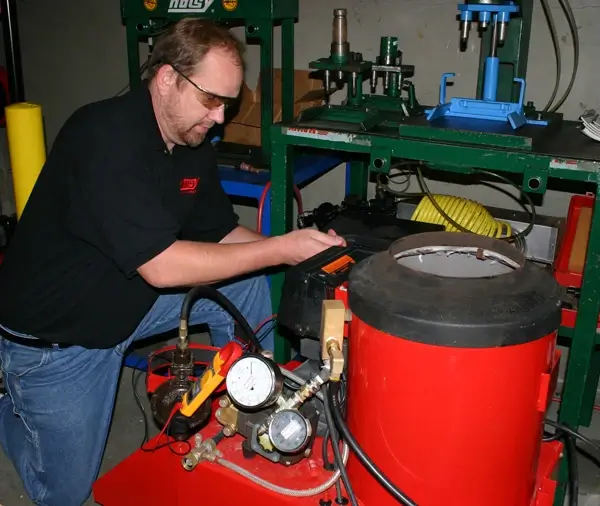 Your business depends on your equipment, and your pressure washer is a vital piece. Taking care of your industrial pressure washer will save you time, money and headaches. But you also don't want the hassle of booking appointments and remembering schedules. Hotsy Water Blast offers a scheduled pressure washer maintenance program to keep track of your pressure washer maintenance for you.
We serve industrial, commercial and residential customers in British Columbia, Alberta, Saskatchewan and North Dakota, and we'll book inspections to work with your schedule. Contact us today to learn more about our pre-scheduled maintenance programs.
Benefits of scheduled pressure washer maintenance
Here are some of the benefits of signing up for the Hotsy Water Blast scheduled maintenance program:
Prevent expensive repairs. Preventing breakdowns is much less expensive than tackling big repairs. You avoid the repair cost and lost revenue caused by downtime.
Alleviate safety concerns. You may be putting your employees' safety at risk if you operate your unit with marginal hoses, safety valves and pressure unloaders that don't work properly.
Reduce operating costs. With regular maintenance, your machine delivers peak performance. Without it, you'll see weaker water pressure – and reduced operational efficiency – due to lime buildup in the coil, the unloader sticking and poor pump packing.
Protect your investment. Regular maintenance inspections prolong the life of your equipment, delaying the need for replacement and giving you a higher return on your investment.
What you need to get started
Click the appropriate link below to download the scheduled maintenance schedule:
 Maintenance Schedule (Canada) (2629 KB)

 Maintenance Schedule (USA) (2629 KB)
Or, complete and submit the applicable online form:
This form is an agreement, not a contract. It can be cancelled at any time by either party without penalty.
What's included in a scheduled maintenance inspection?
For each scheduled inspection from Hotsy Water Blast, we change the pump oil, tighten belts, remove and replace the micro switch and remove and replace the standard spray nozzle. In addition, a technician will check and test your machine with a pressure gauge to ensure all systems are working satisfactorily.
Our experienced mechanics will thoroughly inspect the unit and recommend any necessary repairs. Most repairs can be performed immediately, ensuring your equipment remains in peak running condition.
Hotsy Water Blast's pressure washer maintenance checklist
We guarantee a 50-point inspection with every call, including:
Pump
Oil leaks
Oil level
Unloader
Relief valve
Valves & seals
Suction screen
Filter
Hose
Clamp
Belt
Alignment
Guards
Engine
Oil level
Oil filter
Fuel filter
Air filter
Leak
Fuel tank
Fuse
Spark plug
Battery
Burner Assembly
Burner nozzle
Electrodes
Transformer
Fuel pressure
Clean & check fuel filter
Electrical
GFI
Amp draw
Pressure switch
Flow switch
Thermostat
Remote shut down timer
Natural Gas
Gas valve operation
Clean burning
Ignition
Leaks or Damage
Guns
Hose
Quick coupler
Reel
Nozzle
Soap feed
Solenoid
Hydrominder
Water softener
Pressure washer maintenance tips
Taking care of your industrial pressure washer between your scheduled appointments is vital to minimizing your maintenance and repair costs. Follow these tips:
Check fluid levels and spark plugs on gasoline and diesel-powered units
Keep debris filters clean and replace them when necessary
Ensure all connections are secure, check hoses for bulges and leaks and replace O-rings when necessary
Check the detergent syphoning tube and clear it out if it's clogged
After each use, remember to release the pressure and drain excess water.
Scheduled pressure washer maintenance in Western Canada and North Dakota
Scheduled maintenance from Hotsy Water Blast will reduce your downtime and eliminate your concerns. We're available to serve commercial, industrial and residential customers from our locations in Alberta: Edmonton, Calgary, Red Deer and Grande Prairie; in British Columbia: Langley; in Saskatchewan: Regina; in North Dakota: Williston and Bismarck. Contact us to talk to a representative about how scheduled maintenance can help you.