Electric Pressure Washers
Electric pressure washers in Western Canada and beyond
If you need an electric pressure washer, Hotsy Water Blast has industrial-grade electric units that are ideal for a variety of applications. Our team can help you determine which model and configuration is the most suited to your business. Contact us to speak with one of our experts and we'll be sure to answer all your questions.
Advantages and applications of electric pressure washers
Although they need to be plugged in, electric units are highly portable. Accessories such as 50- and 100-foot hoses and hose reels allow users to clean large areas without moving the machine. Additionally, Hotsy's portable electric pressure washers are easy to transport and manoeuvre. Here are some of the other advantages they offer: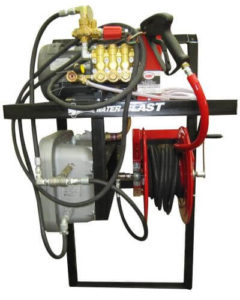 Electric pressure washers don't emit any exhaust. This makes them a great option for indoor use, particularly in poorly ventilated areas and in facilities that restrict the use of petroleum. For example, stationary electric pressure washers are commonly used in industrial wash bays. They can deliver up to 3000 PSI, which is enough cleaning power to wash away even the most hard-to-remove dirt and grime.
Quiet and energy efficient
Electric pressure washers generate less noise than gas and diesel-powered units. This makes them an ideal option for work environments where the noise level is a key consideration.
Electric units are also a more economical and eco-friendly option. Plus you won't need to worry about refuelling the machine or performing engine maintenance.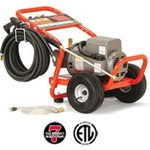 Electric pressure washers can be adapted to meet your needs. Whether you require hot water or cold water, a stationary set-up or a portable one, your unit can be configured to deliver maximum cleaning power and efficiency.
In addition, Hotsy Water Blast offers a wide range of accessories for electric pressure washers, from hoses and reels to specialty nozzles, guns and lances. An undercarriage cleaner, for example a device that allows you to effortlessly wash the underside of vehicles, is beneficial if you're cleaning trucks in a wash bay.
Built by a brand you can trust
When you buy a Hotsy pressure washer, you know you're getting the best. Hotsy is known for its reliable and long-lasting products, which have the best trade-in value and warranty in the industry. Moreover, all Hotsy pressure washers have been rigorously tested and are certified by authoritative bodies such as Underwriters Laboratories (UL) and the Canadian Standards Association (CSA).
Furthermore, the experienced technicians at Hotsy Water Blast are standing by to offer you dependable maintenance and provide you with any parts or accessories you need for your unit. When you buy a Hotsy electric pressure washer, you're in good hands.
Electric pressure washers in Western Canada and beyond
If you need an electric pressure washer in Alberta, British Columbia or North Dakota, you can count on the team at Hotsy Water Blast to help you find a unit that's right for your needs. Contact us today to get more information about our pressure washers, cleaning products and comprehensive maintenance and repair service.