Pressure washer wands for any application
A functional wand or lance is a key component of any pressure washer system. This accessory reduces operator fatigue and ensures faster and more effective cleaning.
At Hotsy Water Blast, we offer wands and lances for a variety of cleaning applications. Our knowledgeable team can help you decide which product would be the best fit for your business.
Hotsy Hot Water Wand
Hotsy's standard pressure washer wands are the perfect tool for your average cleaning job. They can be configured to multiple lengths and offer superior heat protection thanks to their DuPont Zytel insulated grip. Hotsy's hot water wands are rated at 4,000 PSI and can withstand temperatures of up to 220 F (104 C).
Hotsy Dual Lance
Also known as variable pressure wands, dual lances are made up of a pair of parallel wands that deliver extra cleaning power. Hotsy dual lances also include a side handle that allows the user to toggle between washing, rinsing and applying detergent. This handy tool allows the operator to inject detergent into the water stream on the fly instead of having to turn off the machine and switch out the nozzle.
The unique side handle also protects the pressure washer by allowing the operator to inject the detergent after the water stream has left the high-pressure pump. This ensures that the chemicals in the detergent don't damage the pump seals.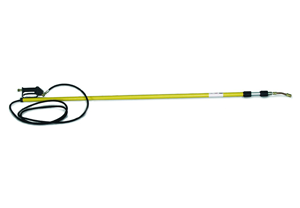 Hotsy Telescoping Lance
The adjustable Hotsy Telescoping Lance extends the length a normal pressure washer wand. This allows you to wash surfaces that would otherwise be out of reach.
If you work in construction, agriculture, oil and gas or other industries with tall equipment that needs to be cleaned, this tool comes in handy. It's also popular among commercial cleaning companies because it allows the operator to reach windows and other high surfaces on buildings.
The Hotsy Telescoping Lance comes in three extension sizes: 6 to 12 feet, 6 to 18 feet and 8 to 24 feet.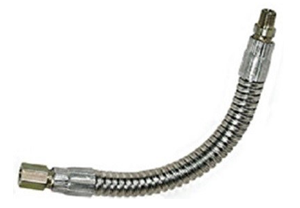 Hotsy Flex Wand
The Hotsy Flex Wand can bend up to 180 degrees in any direction and hold its shape. This makes it ideal for cleaning hard-to-reach areas.
The transportation, oil and gas and agricultural industries find this accessory useful for cleaning vehicles. The Flex Wand allows the operator to reach behind wheel wells and blast away all mud and grime that builds up in this area. It's also ideal for deep cleaning engine parts.
The Hotsy Push and Pull Wand can be used for similar cleaning applications. Much like the Flex Wand, it bends to allow for odd-angle cleaning. However, it's unique in that it has a mechanism on the grip that makes it possible for the operator to change the angle of the wand while cleaning by simply sliding the piece forward or backward. This makes cleaning that much more hassle-free.
Do you need a user-friendly pressure washer wand for your cleaning equipment?
Turn to Hotsy Water Blast to find the right wand lances for your pressure washer. For more information about our products, or for a free quote, contact us today.
In Western Canada we have locations in Edmonton, Calgary, Lethbridge, Red Deer, Grande Prairie, Langley, and Regina. In North Dakota you find us in Williston and Bismarck. Get in touch with the branch nearest to you!