Hotsy Water Blast pressure washers for ranchers and farmers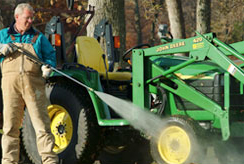 Ranchers and farmers work hard and battle the elements every day. Where unforested land gives way to grain fields and dairy farming, workers know they must make the most of daylight hours. Hotsy Water Blast is your source for effective, efficient pressure washers for a fast, efficient way to clean your farm and ranching equipment. Visit us at one of nine convenient locations in Western Canada or North Dakota, or simply request a custom quote online.
Choosing the right pressure washer
Hotsy offers pressure washers with various functionality features, so you're sure to find the right one for your operation. Here's a look your choices in farm pressure washer equipment.
Hot vs. cold
Cold water pressure washers are ideal for stripping paint and blasting away caked-on dirt, mud and debris, but a hot water pressure washer is the way to go if you need to clean coops, stables and agriculture equipment. The hot water easily cuts through tough dirt, grease, manure and oil splatter. Moreover, the heat disinfects surfaces and kills bacteria, which is especially important in dairy barns, where manure buildup can become a health concern.You can pair one of our hot water pressure washers with a Hotsy detergent or sanitizing agent for the ultimate clean. We carry more than 50 different solutions that are biodegradable and safe for the environment.
Gas vs. electric
Electric pressure washers are ideal for cleaning indoor spaces like animal stables and pens. They don't produce dangerous fumes that could endanger the lives of your cattle, horses, goats, pigs or chickens. Hotsy carries various industrial-grade electric units that can be customized with a wide range of accessories, like hoses, reels, specialty nozzles, guns and lances to clean every nook and cranny.Diesel and gas-powered pressure washers, on the other hand, are perfect for cleaning large machinery like tillers, combines, hay balers, trailers, tractors and more. You can count on our pressure washers to clean the dirtiest equipment and surfaces. Hotsy also carries telescoping wands that make it easy to clean hard-to-reach areas on tall equipment.
Portable vs. stationary
Hotsy's stationary pressure washers are ideal for cleaning in a dedicated space, like a barn, shed or workshop. We recommend one of our quiet, energy-efficient and exhaust-free electric units for food processing and indoor cleaning applications. Hotsy also carries portable electric pressure washers with wheels and castors that can easily be moved around your facility.Gas and diesel-powered pressure washers offer the best portability, making them ideal for cleaning large outdoor areas
The Hotsy difference
All Hotsy pressure washers have been rigorously tested and are certified by authoritative bodies such as Underwriters Laboratories (UL) and the Canadian Standards Association (CSA). We're the largest volume Hotsy dealer in North America; our expertise and knowledge in the cleaning industry are unparalleled.
The Hotsy team can help you choose the best farm pressure washer for your agriculture operations and customize a cleaning package to fit your budget. Choose Hotsy and see for yourself that "Nothing Cleans Like a Hotsy!" Care for your farm equipment and get the job done fast with Hotsy Water Blast.
Our pressure washer models for the agriculture industry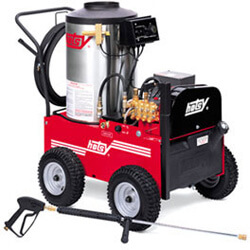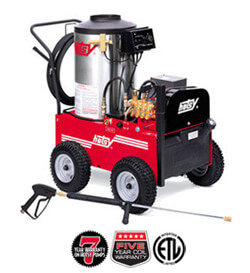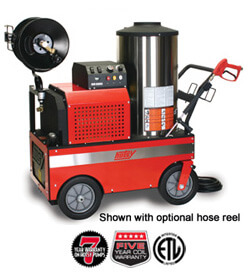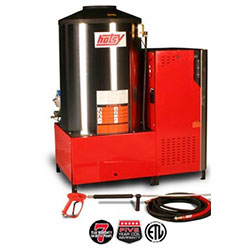 The Hotsy HC Series is a gas-powered, hand-held cold water pressure washer. It offers 2,400 PSI and delivers capable cleaning power.
The Hotsy 700 Series hot water pressure washers are ideal for commercial cleaning. In addition to the three direct-drive models, this series also offers a belt-drive model with cleaning power of 3.5 GPM at 2,000 PSI.
The Direct-Drive Hotsy Gas Engine Series hot water pressure washers are ideal for cleaning outdoors. Rugged, compact and portable, these hot water pressure washers offer a broad range of cleaning power, from 2.7 to 3.8 GPM and from 2,400 to 3,500 PSI.
The HWE Series is the electric-powered and -heated Hotsy hot water pressure washer. Ideal for industrial cleaning indoors, the HWE is a quiet machine that doesn't produce any fumes.
Agricultural pressure washer experts in Saskatchewan, Western Canada and North Dakota
Hotsy Water Blast carries industrial pressure washer models ideal for cleaning and sanitizing agriculture areas and equipment. Our team will help you configure the best pressure washer for farm use and ensure it delivers maximum cleaning power and efficiency. We also have a fully stocked parts room and provide in-house or on-site service to keep your processes running smoothly and safeguard your investment.
Contact us to learn more about our CSA-approved Hotsy pressure washers. We have nine convenient locations, including Alberta: Edmonton, Calgary, Lethbridge, Red Deer, Grande Prairie; in British Columbia: Langley; in Saskatchewan: Regina; in North Dakota: Williston and Bismarck.