Ranchers & Farmers Turn to Hotsy Water Blast for Pressure Washers to Clean Their Equipment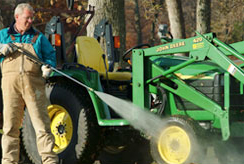 Ranchers and farmers claim a rich history of hard work and battling the elements. Where the unforested land gives way to fields of grain and dairy farming, workers know they need to make the most of daylight hours. Looking for a faster way to clean farm and ranching equipment, many have turned to Hotsy Water Blast for all their pressure washer needs.
Hotsy pressure washers come in a number of models ideal for cleaning and sanitizing agriculture areas and equipment. Hotsy Water Blast is the largest volume Hotsy dealer in North America; our expertise and knowledge in the cleaning industry is unparalleled. We can recommend the best pressure washer for your needs, and will customize a cleaning package that will fit within your budget.
Consider a portable pressure washer, which provides the ability to move around, cleaning where you need it most, and built sturdily enough to withstand extensive use and harsh conditions. Hotsy pressure washers work as hard as the best hand on the farm. Care for your equipment and get the job done fast with a Hotsy.
To learn more about our CSA-approved Hotsy pressure washers, contact us at one of our 9 convenient locations; in Alberta: Edmonton, Calgary, Lethbridge, Red Deer, Grande Prairie; in British Columbia: Langley; in Saskatchewan: Regina; in North Dakota: Williston and Bismarck. Choose the best commercial pressure washer available to the agriculture industry. Choose Hotsy and see for yourself that "Nothing Cleans Like a Hotsy!"