Custom Steam Trucks and Wash Trucks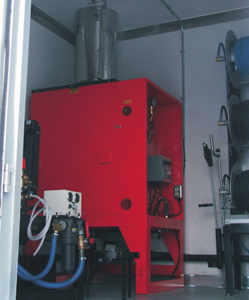 Contract cleaners need portable cleaning equipment; we at Hotsy Water Blast understand that and offer a number of solutions. You need an industrial-grade pressure washer/steamer that will hold up to everyday use: one that's rugged and durable. Plus, you need the ability to quickly move the pressure washer/steamer from one location to another. If you are looking for steam trucks and wash trucks in Edmonton, count on us. We also offer pumps, hoses and reels.
Many other configurations available. Call for more details.
Features of Truck Mounted Pressure Washers
Some of the features of a truck mounted pressure washer include:
A self-driven and completely portable system.
Dual high pressure line, wet steam, dry steam and pre-spray within one unit and or any combination of these. Stacked hose reel included.
Hydraulic driven or engine pumping modules
Efficient engineered design.
Customize your unit to suit your application

Accommodates various flow rates and pressure.
Additional fuel tank(s) as required.
Working lights as required.
Supplementary shelving and toolboxes as required.
Advantages of Truck Mounted Washers
Combination hot water pressure washers/steamers quickly remove grease, oil and grime, and have proven to speed cleaning dramatically. The experts at Hotsy Water Blast can help you select the best truck-mounted pressure washer model, depending on your cleaning needs and application. Some of the other perks of using our truck mounted pressure washers are as follows:
Versatility

Power Source- The pressure washer can utilize the truck's fuel and or power supply hydraulically, allowing for two operators to use high pressure at the same time.
Pumping module- It can be driven by a separate engine
Payload Capacity- The weight is distributed specific to each individual truck to ensure maximum payload capacity and optimum truck handling.
Depending on your needs, we offer customised design ensuring ease of operation and serviceability.
Different heater set-ups can be utilized to accommodate increased flow and optimum output temperature. Our pipe thread cleaning design utilizes a vacuum and recycling system to reclaim or treat water for reuse. This increases the overall efficiency of the truck-mounted pressure washer and allows it to be used on site where waste is not to be discharged.
Robust chassis design is capable of transporting larger payloads allowing for larger water supply tanks.
We also offer trailer and skid mounted pressure washers/steamers that can be custom-fitted with accessories and a water storage tank.
Contact Us Today
For more information on steam trucks and wash trucks in Edmonton, give us a call today.
Contact us or call one of our 9 convenient locations; in Alberta: Edmonton, Calgary, Lethbridge, Red Deer, Grande Prairie; in British Columbia: Langley; in Saskatchewan:  Regina; in North Dakota: Williston and Bismarck.