Custom Steam Trucks and Wash Trucks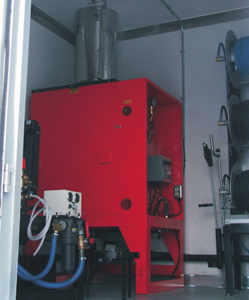 Many other configurations available. Call for more details.
Contract cleaners need portable cleaning equipment; we at Hotsy Water Blast understand that and offer a number of solutions. You need an industrial-grade pressure washer/steamer that will hold up to everyday use: one that's rugged and durable. Plus, you need the ability to quickly move the pressure washer/steamer from one location to another.
Combination hot water pressure washers/steamers quickly remove greasy oil and grime, and have proven to speed cleaning dramatically. The experts at Hotsy Water Blast can help you select the best truck-mounted pressure washer model, depending on what you will be cleaning. We also offer trailer and skid mounted pressure washers/steamers that can be custom-fitted with accessories and a water storage tank.
Contact us or call one of our 9 convenient locations; in Alberta: Edmonton, Calgary, Lethbridge, Red Deer, Grande Prairie; in British Columbia: Langley; in Saskatchewan:  Regina; in North Dakota: Williston and Bismarck.