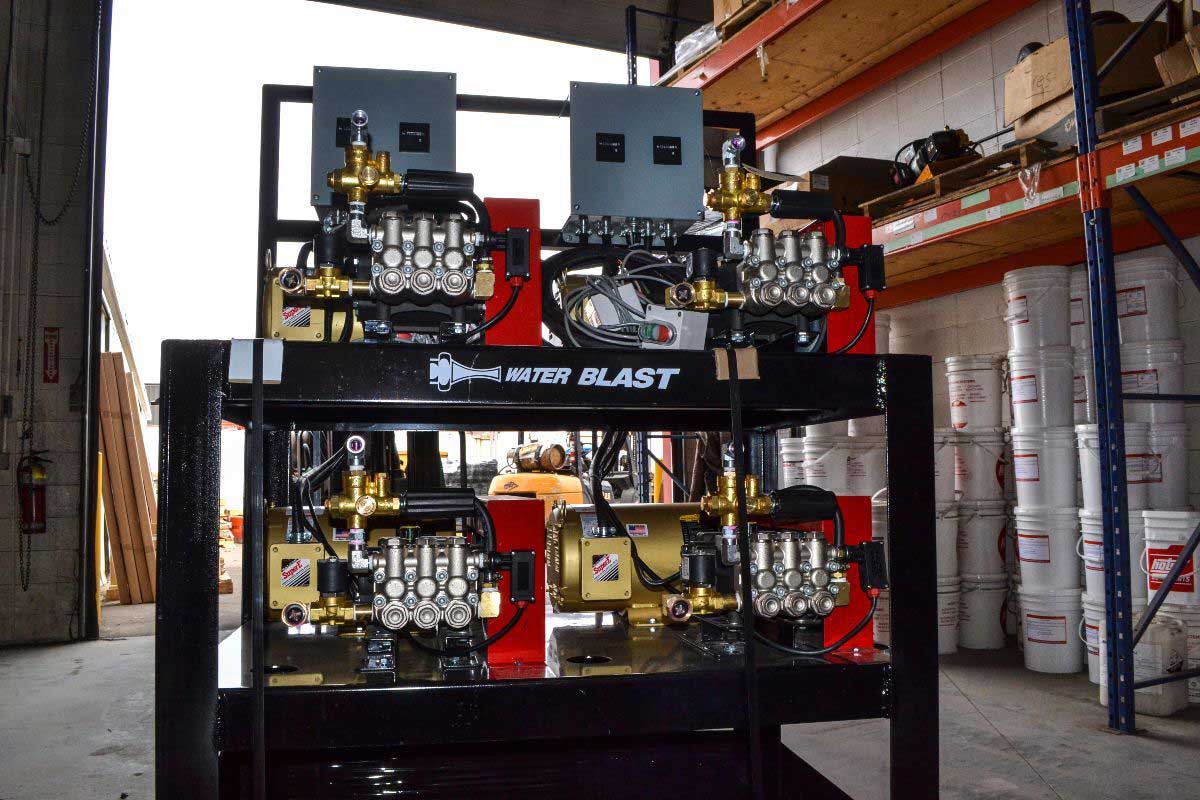 Wash bay systems in Western Canada
If your business conducts daily or frequent cleaning of vehicles, trucks or heavy equipment, an industrial wash bay system could be a wise investment. At Hotsy Water Blast, we design and install washing systems specific to your application and needs. Whether you need a single wash area or multiple stations, contact us to find out how we can help you assemble your ideal setup.
What's a wash bay system?
A wash bay is a complete washing system that includes a stationary pressure washer and a trolley system of multiple hoses and wands. Wash bays are extremely efficient as multiple users can clean simultaneously using hot water from the same pressure washer. Consequently, these systems help improve efficiency, allow you to take better care of your equipment and effectively utilize existing water. Furthermore, wash bays are easier to maintain than stand-alone pressure washers and can be customized to fit your specific cleaning needs.
Custom wash bay solutions
Whether you want to install an industrial wash bay, a coin operated car wash or a time-charge system, Hotsy Water Blast has what you need. We carry hot and cold pressure washers suitable for wash bays and offer a large variety of options and accessories. Here's an overview of some of the customizations you can make to your Hotsy wash bay system:
Hose reels, trolleys and booms. These accessories lift and store high-pressure hoses off the ground, which prevents them from sitting in oil and grease or getting damaged. In addition, they make it easier to access and manoeuvre large implements.
Wireless remote controls. This technology allows you to turn the pressure washer, burner and soap dispenser on or off from up to 100 metres away. This eliminates the need to walk back and forth between the remote box and the wash bay, thus saving valuable time.
Hydrominders. This equipment automatically portions and mixes concentrated soaps with water at a pre-determined ratio. Hydrominders also have a large tank, enabling you to save money by buying in bulk and avoid frequent refilling for faster and more efficient cleaning.
Water softeners. These systems remove minerals such as calcium and magnesium from the wash water to provide a residue-free finish and reduce scale buildup on the heating coil. They also allow you to use considerably less soap.
Retractable curtain walls. This option allows you to cordon off multiple washing areas and ensure overspray, splashing and other contaminants stay within the wash bay. When the pressure washer system isn't in use, the curtains can be retracted.
Undercarriage cleaners. These systems are specially designed to easily roll under vehicles and equipment to clean hard-to-reach places. They get into every nook and cranny, so you can save time and energy by not having to get down on your hands and knees.
Water recycling systems. These systems allow you to collect and process wash water so that it can be reused. Dirty water is automatically collected inside the system where agents kill bacteria and odours, as well as remove pollutants, such as oil or sludge, and neutralize the water's pH. The Hotsy wash bay water recycling system is environmentally friendly, cost-effective and available with a range of accessories.
In addition, you can choose to enclose your wash bay with a secured door to prevent theft and accidental damage.
Industrial wash bay systems
Whether you want to install a new wash bay or upgrade your existing setup, the professionals at Hotsy Water Blast can help. They'll visit your facility to better understand the needs of your operation and recommend the equipment, accessories and detergents that are best suited to your wash needs. To learn more about wash bay systems or get a free quote, contact us today.