Hours:
Monday:
8:00 AM - 5:00 PM
Tuesday:
8:00 AM - 5:00 PM
Wednesday:
8:00 AM - 5:00 PM
Thursday:
8:00 AM - 5:00 PM
Friday:
8:00 AM - 5:00 PM
Saturday:
Closed
Sunday:
Closed
Hotsy pressure washers in Williston, North Dakota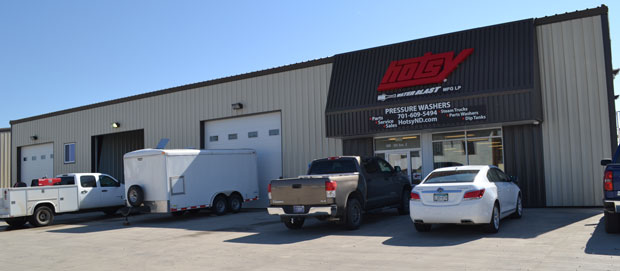 North Dakota is in the midst of an oil boom, and Hotsy Water Blast is booming right along with it. Williston is our newest home because we know a power washer from Hotsy Water Blast is a must-have asset for every oil field business.
Pressure washers have a host of applications in the oil and gas industry. With more than 120 pressure washer models to choose from, you're sure to find a Hotsy model that meets your needs.
Hotsy Water Blast's Williston branch serves the many cities and towns in northern and western North Dakota that support the Bakken oil boom, including:
New Town
Watford City
Tioga
Stanley
Crosby
Killdeer
Contact our Williston branch today to get a free quote on your custom-built cleaning solution.
Pressure washers in the oil and gas industry
A rugged, quality industrial pressure washer plays a vital maintenance function in oil fields, refineries and other job sites where pieces of equipment are worth millions of dollars. Proper cleaning can prevent your machinery from corrosion that leads to expensive repairs and costly downtime.
Pressure washers are ideal for cleaning a variety of oil field equipment, including:
Mixing augers
Drill pipes
Scooptrams
Transmixers
Powered wheelbarrows
Shovel loaders
Frac tanks
Drill rigs
Haul trailers
Generators
Excavators
Belt crawlers
Locomotives
Elevator links
Using a pressure washer is the most efficient way to clean oil field equipment. With a pressure washer, workers spend less time cleaning. You will see lower water bills because pressure washers use much less water than other cleaning methods.
Hotsy Water Blast Pressure models
Extracting oil and gas presents certain dangers such as explosions and fires due to the material's volatility. A Hotsy pressure washer is the ideal cleaning solution because our explosion-proof models meet or exceed industry safety standards. Here's a rundown of some of our quality products.
Hot water pressure washers. A cold-water pressure washer can remove caked-on dirt and mud. But a hot-water pressure washer cuts through tough grease and oil that can choke your valuable equipment. Reaching temperatures up to 200 degrees Fahrenheit, hot water breaks up oil and grease, removing it rather than pushing it around. Hotsy Water Blast carries a variety of pressure washer detergents to break up oily sludge faster.
Electric pressure washers. An electric powered pressure washer is ideal for indoor use because it doesn't emit exhaust fumes. Also, it makes less noise than a gas- or diesel-powered pressure washer. Electric pressure washers are perfect for wash bays where multiple users can clean vehicles and equipment simultaneously.
Gasoline and diesel pressure washers. Clean anywhere with a gasoline– or diesel-powered pressure washer without the need for an electricity supply. A gasoline or diesel powered pressure washer is perfect for skid mounting, increasing portability for outdoor cleaning and for use on remote worksites.
Besides our line of pressure washer solutions, we also provide custom hydrovac systems for a safe way to expose underground piping.
Pressure washer leasing
If you need a pressure washer but don't have the money to purchase one, consider Hotsy's pressure washer leasing service. Leasing lets you start working with your pressure washer today with no money down.
Pressure washer repair
Hotsy's pressure washer repair service will get your machine running again quickly, so you don't lose valuable time. Our experienced technicians have the tools and know-how to fix any pressure washer malfunction.
If you don't have the time to bring your machine to our Williston location, take advantage of our mobile repair service. Our technicians will visit your job site with trucks fully stocked with tools and parts, no matter where your job site is.
Pressure washer maintenance program
Avoid costly repairs by registering for Hotsy's scheduled maintenance inspections. A trained Hotsy professional will help you protect your investment with regular assessments to keep your pressure washer in optimal condition.
Industrial pressure washer solutions for the oil and gas industry in Williston
Hotsy Water Blast is a trusted name in pressure washer cleaning solutions for the oil and gas industry. We'll listen to your needs and customize a cleaning system for your business. Contact us today in Williston to schedule an on-site demonstration of our products and learn how Hotsy can improve your operation.