Pressure washer solutions for the oil, gas and mining industry
Keeping valuable equipment and machinery clean is a tough job in the oil, gas, and mining industries. Grease, oil, dust, and dirt can gum-up equipment, leading to costly repairs and frustrating downtime.
At Hotsy Water Blast, we've been meeting the unique cleaning needs of the oil, gas and mining industries since 1970. We design and manufacture rugged, reliable pressure washers that can withstand the harshest environments. Contact Hosty Water Blast today to learn how our products can keep your equipment and machinery clean and running at maximum efficiency.
Hotsy pressure washers are available in hot water/steam or cold water models. Hot water pressure washers are ideal for the oil and gas industries because the hot water cuts through greasy residue and grime instead of just pushing it around. Moreover, removing oily sludge from your equipment makes it last longer and keeps your employees safe by reducing the risk of fire and explosions. Our electric models and diesel-fired units are ETL certified to UL-1776 safety standards.
Mining pressure washer solutions
In the mining industry, the most common method of cleaning equipment is with a custom washing system. These systems consist of a stationary pressure washer remotely positioned away from the trucks or equipment being cleaned.
Moreover, cleaning is accelerated when using a wash bay since multiple users can clean at once. Hotsy offers all-electric models suitable for underground cleaning where harmful fumes or emissions are dangerous.
We also provide custom hydrovac systems to safely expose underground piping. Our hydrovacs are also used for pipeline trenching, post hole digging, daylighting, tunnelling, piling holes and slot trenching.
Industrial applications
Hotsy pressure washing equipment offers power and efficiency yet requires little maintenance. We deliver custom equipment made to your specifications. There's no open flame used for heating, making it safe for gas and oil fields. Furthermore, every pressure washer is backed by Hotsy's decades of experience in the oil, gas and mining industries.
Our cleaning solutions are perfect for:
Extraction facilities
Mines
Refineries
Fracking sites
Land or offshore drilling rig
Hazardous areas
Non-hazardous areas
Pipelines
Tankers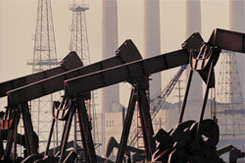 Hotsy Water Blast also carries more than 50 different detergents designed to cut through stubborn grime. Our unique formulas make any cleaning job a breeze.
Oil, gas and mining pressure washers in Western Canada and North Dakota
At Hotsy Water Blast, we're committed to customer satisfaction. That's why we manufacture custom equipment designed to your specifications. Let us know what you need, and we'll figure out how to make it happen. Contact us at one of our nine convenient locations; in Alberta: Edmonton, Calgary, Lethbridge, Red Deer, Grande Prairie; in British Columbia: Langley; in Saskatchewan:  Regina; in North Dakota: Williston and Bismarck.