Hotsy Water Blast: Pressure Washers Designed to Keep Industrial Equipment Clean
Oil and gas industries have learned to rely on Hotsy Water Blast to provide custom cleaning solutions to keep drilling rigs working properly. Hotsy, the #1 name in high-pressure cleaning / steaming equipment, delivers cleaning power you can count on, in some of the toughest working environments possible.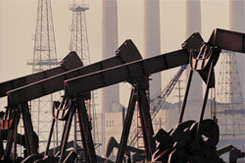 Hotsy pressure washers are available in hot water / steam or cold water models. Hot water cuts through oil residue and grime, instead of just pushing it around. For tough cleaning, turn to the knowledgeable staff at Hotsy Water Blast. Our equipment solutions are perfect for cleaning the equipment used in extraction facilities, mines and refineries.
Hotsy Water Blast meets the needs of professionals in oil and gas by delivering custom equipment made to your specifications. We provide custom hydrovac systems for a safe way to expose underground piping.
Your satisfaction is of the utmost importance to us at Hotsy Water Blast. We manufacture custom equipment designed to your specifications. Tell us what you need and we'll figure out a way to make it happen. Contact us at one of our 10 convenient locations; in Alberta: Edmonton, Calgary, Lethbridge, Red Deer, Grande Prairie; in British Columbia: Langley; in Saskatchewan:  Regina; in North Dakota: Williston and Bismarck.