Hours:
Monday:
8:00 AM - 5:00 PM
Tuesday:
8:00 AM - 5:00 PM
Wednesday:
8:00 AM - 5:00 PM
Thursday:
8:00 AM - 5:00 PM
Friday:
8:00 AM - 5:00 PM
Saturday:
Closed
Sunday:
Closed
Pressure washer servicing and sales in Lethbridge, Alberta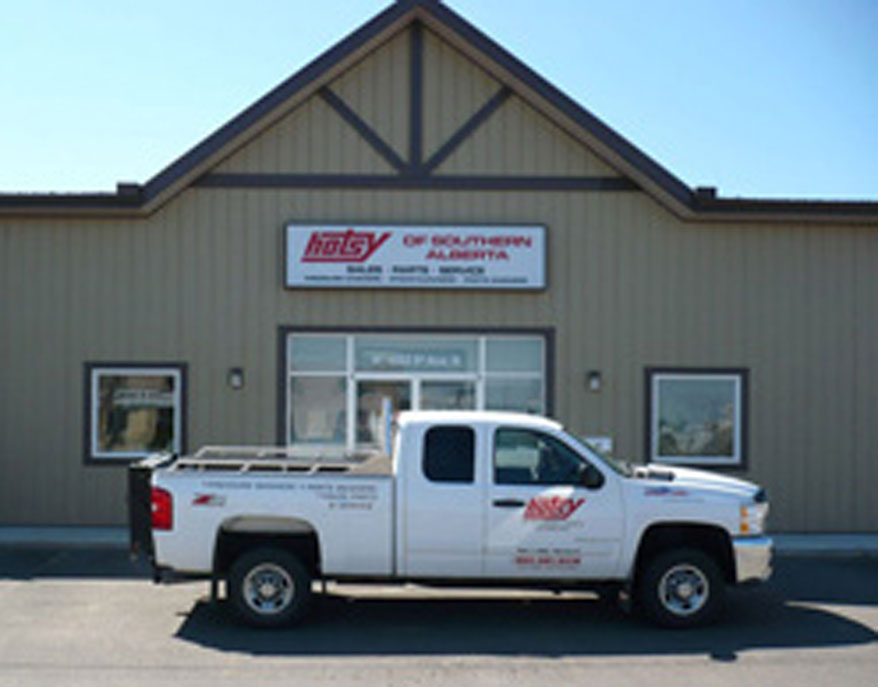 Lethbridge has a long history of farming and resource extraction — industries that require heavy machinery and serious cleaning solutions. Located just south of Calgary in Alberta's agricultural heartland, Hotsy Water Blast's Lethbridge branch is ideally situated to provide ranchers and farmers with top-quality pressure washers.
Hotsy Water Blast offers the cleaning equipment to make your job a little bit easier and more efficient, with more than enough options to tackle your daily grind. Call our Lethbridge location at 701-609-5494 today for more information.
Choosing the right pressure washer for the job
Pressure washers don't offer a one-size-fits-all solution for any job, let alone some of the dirtiest. As you'd expect, there's a massive difference between the washers used by building maintenance and those used on farms.
Hotsy Water Blast carries various pressure washer models, including electric-, diesel- and gas-powered models, as well as hot water and skid-mounted units. This equipment is efficient and designed to get the toughest jobs done. We also offer a wide selection of accessories and pressure washer attachments, including hoses, reels, nozzles and wands.
We can also help you choose a specially formulated detergent that meets your company's cleaning and sanitation needs. Whether you need to clean floors, degrease heavy machinery, wash down a fleet of semi-trucks or sanitize manufacturing equipment, we have what you need.
At the end of the day, you need to be sure your equipment and facilities are well maintained, and that includes thorough cleaning. Our staff will ensure you get the right cleaning equipment for the task at hand with a pressure washer from Hotsy. Not sure where to start? Check out our applications page for more information on how Hotsy Water Blast can support your industry
Custom pressure washing solutions
Cleaning equipment is no easy task, especially when the weather isn't on your side. There are only so many hours in the day to get your work done, and we know you can't waste any time. You need something that can get right to work and handle the task several times a week.
Hotsy Water Blast has over 100 pressure washer models to choose from, and that's not all. Our team in Lethbridge can also help you design a custom industrial cleaning system for degassing, steaming, thawing, laying pipeline and more. We also provide custom hydrovac systems for a safe way to expose underground piping. We guarantee you'll get a dependable, superior-quality solution that meets the needs of your industry.
Scheduled pressure washer maintenance
Even though our machines are built to last and work hard, you still need to maintain your equipment to achieve the best performance possible. Fortunately, Hotsy Water Blast offers a comprehensive scheduled maintenance program to protect your investment and increase the longevity of your machine.
At your scheduled inspection, a technician will change the pump oil, tighten belts, remove and replace the micro switch and remove and replace the standard spray nozzle. They'll also test your machine with a pressure gauge to ensure all systems are working satisfactorily.
We know how busy you are, and we believe keeping track of maintenance schedules and appointments shouldn't be your problem. Once you sign up for our program online, our team will keep track of ongoing maintenance and alert you when it's time to bring your equipment in for servicing. We strongly believe the best way to avoid repairs is with thorough and consistent maintenance.
Mobile and on-site repairs
If your pressure washer breaks down and needs serious repair, bring your equipment to our Hotsy location in Lethbridge. We have a complete inventory of replacement parts and an on-site team of knowledgeable technicians who can get it back up and running in no time.
We also offer mobile services with 18 service trucks fully stocked with the parts and tools needed to do any job, big or small. Our mobile services are ideal for remote businesses and those with a stationary pressure washer system or natural gas connections. This avoids costly downtime and allows you to carry on with your duties.
Pressure washer rentals and leases
At Hotsy Water Blast in Lethbridge, we carry a wide selection of pressure washers you can take to your job site and return the next day. Renting one of our pressure washers is a convenient and affordable way to complete your cleaning project without spending time and money on maintenance, repairs and storage of the cleaning gear.
We also offer long-term leases to give you all the benefits of owning a machine without the upfront cost of buying one. Our team will be happy to arrange a monthly payment schedule that suits your budget.
Industrial and electrical pressure washer units in Lethbridge
After years of building relationships with the local community, we understand just how critical efficient cleaning is to our various industries. Whether you want to upgrade your existing pressure washer or purchase a brand-new cleaning solution for your business, Hotsy Water Blast in Lethbridge has what you need.
We know how hard you work, and we try to work just as hard for you. Don't lose another minute to subpar cleaning equipment! Call our Lethbridge location at 701-609-5494 today or visit us in person for all your pressure washing needs in southern Alberta.