Hours:
Monday:
8:00 AM - 5:00 PM
Tuesday:
8:00 AM - 5:00 PM
Wednesday:
8:00 AM - 5:00 PM
Thursday:
8:00 AM - 5:00 PM
Friday:
8:00 AM - 5:00 PM
Saturday:
Closed
Sunday:
Closed
Hotsy of Southern Alberta Located in Lethbridge, Alberta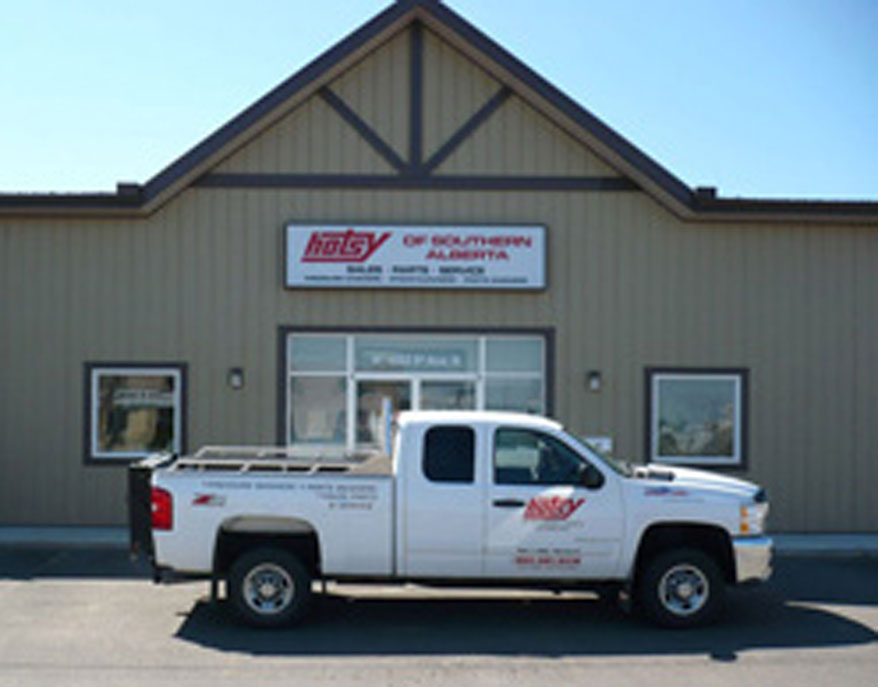 Located just south of Calgary in Alberta's agricultural heartland, Hotsy Water Blast's Lethbridge branch is ideally situated to provide ranchers and farmers with top quality pressure washers.
Lethbridge has a long history of farming and resource extraction – industries that require heavy machinery and serious cleaning solutions.
After years of building relationships with the local community, we understand just how important efficient cleaning is to our various industries. We know how hard you work and we are trying to work just as hard for you!
Every day you work with your hands in the dirt. Maybe not exactly, but your machinery and equipment are essential to getting the job done. Even when your work is finished there is still the mandatory clean up required. This is where a Hotsy pressure washer comes in handy to remove a day's worth of dust, mud, manure, plant-matter, and more from your tools. With more than enough options to tackle your daily grind, we offer the cleaning equipment to make your job just a little bit easier, more efficient, and enjoyable.
Choosing the Right Pressure Washer for the Job
Pressure washers do not offer a one-size-fits-all solution for any job, let alone some of the dirtiest! As you would expect, there is a massive difference between the washers used by building maintenance versus the washer essential to a farmer's daily duties. Cleaning equipment is no easy task especially when the weather isn't on your side. There are only so many hours in the day to get your work done, and we know you can't be wasting any time. You need something that can get right to work and handle business several times a week! At Hotsy Water Blast we have the added advantage of providing mobile models and models with hot water capabilities. This equipment is more efficient, portable, and designed to get the toughest jobs done. Not sure where to start? Check out our agriculture page for more information on what we can do specifically for your industry!
Servicing, Maintenance, and Repairs
Even though our machines are built to last and built to work hard, you still need to maintain your equipment to achieve the best performance possible. Hotsy Water Blast offers a maintenance plan to protect your investment and increase the longevity of your machine. But we also know how busy you are, and keeping track of maintenance schedules and appointments shouldn't be your problem. Sign up online for our Scheduled Maintenance Program and Hotsy Water Blast will not only keep track of your maintenance program for you, but we'll alert you when it's time to bring your equipment in for servicing. The best way to avoid repairs is with thorough and consistent maintenance.
What if something breaks down and needs serious repair right away? Our mobile services can come to you and get your equipment back in working shape. This avoids taking time and resources away from your important work, and allows you to carry on with your duties.
Visit Lethbridge's Hotsy Water Blast
Give us a call today or visit us in person for all your pressure washing needs in southern Alberta. Don't waste another minute on subpar cleaning equipment. At the end of the day make sure you are cleaning your heavy machinery with a pressure washer from Lethbridge's Hotsy Water Blast.