We offer Water Recycle and Wash Water Treatment Systems from Water Maze. Go Green and Help Save Our Most Precious Resource – Water!
Did you know you can treat and reuse dirty wash water generated by pressure washers and other cleaning equipment? With Water Maze industrial Wash Water Treatment Equipment, you can treat and reuse wash water. Hotsy Water Blast is an authorized dealer for Water Maze Water Treatment Systems, and can size a system to suit your specific needs. All waste water recycle equipment is CSA approved.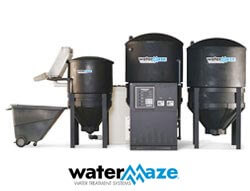 Water Maze Water Treatment equipment uses a broad range of technologies including electro-coagulation, bioremediation and mechanical filtration. With a recycle system we can take dirty wash water, process it and reuse it. The recycle filters the water, adjusts the PH level, cleans the water, and stores the debris – this process is entirely automatic. Hotsy Water Blast offers on site or in-house service to all our equipment with the most knowledgeable staff in the industry. The water treatment systems include:
By recycling wash water, you not only save money in sewer costs, but you avoid possible fines and regulatory litigation. Be proactive and environmentally conscious by contacting us or call one of our convenient locations to discuss alternatives for handling your waste water. We can make a recommendation that will work for you.