Heavy Equipment Needs A Heavy Duty Pressure Washer from Hotsy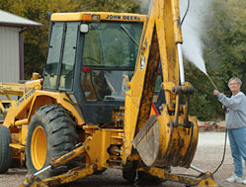 Construction and heavy duty equipment are tough to keep clean since grime and muck are the very nature of the industry. Keeping expensive equipment clean is essential preventive maintenance and helps extend the life of your equipment. When it's time to clean your equipment, turn to Hotsy Water Blast. We are the largest volume Hotsy pressure washer dealer in North America, offering industrial grade pressure washers in all shapes and sizes.
Portable gas engine pressure washers are often chosen by construction professionals as they are suitable for outdoor cleaning, and we mount them in trucks or trailers. Another popular alternative is a wash bay system, which allows multiple users to clean simultaneously.
Contact the sales team at Hotsy Water Blast to learn more about the best pressure washer for cleaning your construction equipment. We'll be happy to provide a free on-site demonstration so you can see a Hotsy in action. Call one of our 9 convenient locations; our Alberta locations are in Edmonton, Calgary, Lethbridge, Red Deer and Grande Prairie; you can also visit Hotsy in Langley, British Columbia,  Regina, Saskatchewan, or either of our North Dakota locations in Williston or Bismarck.