Commercial pressure washing equipment for heavy duty equipment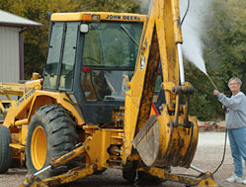 If you work in the agriculture, automotive, oil or construction industries, you know heavy-duty equipment like trucks, tractors and excavators must be clean to stay in good working order. Keeping them clean can be one of the toughest jobs on your worksite. Fortunately, Hotsy Water Blast carries an impressive selection of commercial pressure washers for any application. Our team can help you find the perfect heavy-duty high-pressure washer, cleaner or sanitizer machine for your operations. Contact us today to learn more about our products and services
How do you clean greasy machinery?
If you need to cut through grease, oil and grime, an industrial hot water pressure washer is a perfect choice. These units can be powered with electricity, gas or diesel. Electric pressure washers are ideal for indoor applications, while gas and diesel are best for construction sites and remote locations.
Additionally, you can pair your hot water pressure washer with specialized detergents to degrease machinery quickly and effectively. For example, Ripper I and Ripper II are two of the best heavy-duty, caustic-based truck wash detergents on the market. These formulas are ideal for removing thick grease and hydraulic oil from heavy equipment.
An effective and efficient excavator track cleaner
Plus, Hotsy Water Blast carries several nozzles and wands for all our hot water pressure washers. For example, the Hotsy Turbo Nozzle is great for cleaning excavator tracks. This attachment creates a narrow, concentrated spinning stream to remove tenacious oil and grime. Moreover, the adjustable Hotsy Telescoping Lance extends the length of your pressure washer wand, allowing you to clean tall equipment with ease.
How do you clean heavy equipment?
An industrial wash bay system is a wise investment if your business cleans trucks and heavy equipment daily. A typical wash bay consists of a stationary pressure washing unit and a trolley system of multiple hoses and wands. If you have a large fleet, you can cordon off several washing areas so numerous users can clean vehicles and equipment simultaneously.
Moreover, you can customize your wash bay system with several pressure washer attachments like an undercarriage cleaner. This stainless-steel rotating assembly easily rolls under heavy equipment to clean hard-to-reach places. It requires less than 15 centimetres of clearance and includes a long handle, four nozzles and casters that swivel 360 degrees. It's truly the best way to clean road grime, oil contaminants and sludge off an entire fleet of heavy equipment.
Which equipment can clean up construction areas?
If you need a powerful and portable cleaning solution, a skid-, truck– or trailer-mounted diesel pressure washer is your best bet. Diesel pressure washers are extremely powerful and offer the best portability, making them ideal for cleaning large outdoor areas like construction sites.
Furthermore, you can outfit your mounted pressure washer with accessories like a water storage tank or auxiliary fuel tank to efficiently clean remote worksites. Using hoses and reels can allow you to operate the pressure washer from up to 90 metres away.
The benefits of commercial hot water pressure washers
A pressure washer is a machine used in many industries to remove heavy grease. Regular pressure washing keeps contaminants and pollutants from settling on your equipment, saving you money on maintenance and repairs. Furthermore, commercial pressure washers are easy to use. You don't have to hire a specialized cleaning company to help maintain your fleet. You can quickly train your employees to safely operate a pressure washer, which can help your business's bottom line.
Scheduled maintenance
Do you run a commercial business that relies on keeping machinery clean and in good working order? If so, Hotsy Water Blast offers a comprehensive scheduled maintenance program to ensure your industrial pressure washer remains in top shape for years to come.
One of our expert technicians will periodically visit your workplace to perform a 50-point inspection of your pressure washing system, including changing the pump oil and tightening the belts. They'll also recommend any necessary repairs to ensure your equipment is in peak running condition. We want to help you make the most of your investment.
Industrial pressure washers in Western Canada and North Dakota
Whether you need an excavator track cleaning tool or a commercial sanitizing machine, Hotsy Water Blast has what you need. We carry over 100 commercial pressure washer models, as well as accessories and detergents to meet your heavy equipment cleaning needs. Our team can also design a custom heavy equipment power washing solution for your operation. Contact our sales team to set up a free on-site demonstration.
We have seven convenient locations in Canada, including Edmonton, Calgary, Lethbridge, Red Deer, Grande Prairie, Langley and Regina, plus two in the United States in Bismarck and Williston.