Hours:
Monday:
8:00 AM - 5:00 PM
Tuesday:
8:00 AM - 5:00 PM
Wednesday:
8:00 AM - 5:00 PM
Thursday:
8:00 AM - 5:00 PM
Friday:
8:00 AM - 5:00 PM
Saturday:
Closed
Sunday:
Closed
Hotsy Pressure washers in Red Deer, Alberta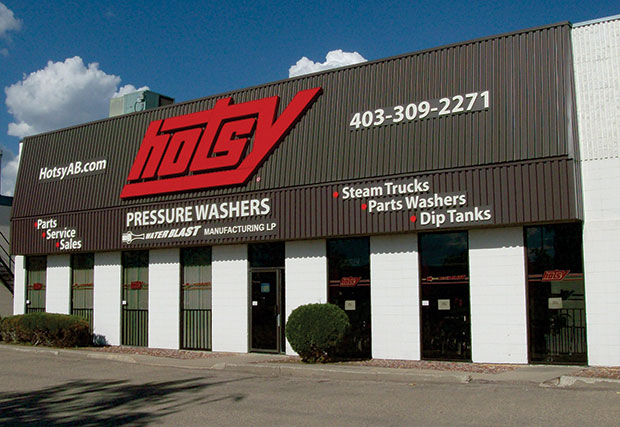 Pressure washers are in high demand for most major industries in central Alberta. If you frequently do business between the two major cities of Edmonton and Calgary, Hotsy Water Blast in Red Deer is an ideal location for your pressure washing needs. You'll find the exact products and solutions you need, whether for work in oil and gas, agriculture, automotive or a residential project.
Call our Red Deer branch at 403-309-2271 today, and we'll find the right solution for your cleaning needs.
Our pressure washer models
Maintain your big machines, remove layers of grime to prepare any surface or keep your job site clean with the efficient power of pressurized water. At Hotsy Water Blas, we specialize in pressure washer sales, parts, service and repair and provide virtually endless options. Here's an overview of our offerings.
Cold water pressure washers are ideal for high-volume, low-pressure applications to knock away caked-on mud and debris or to strip paint. Hotsy has more than 35 different cold-water units to choose from.
Hot water pressure washers are designed to cut through grease, grime, oil and sludge that builds up on heavy machinery and semi-trucks. The high-pressure pumps in our hot water units are backed by a seven-year warranty and are built with durable reinforced frames for maximum durability and longevity.
Electric pressure washers are perfect for indoor applications. They're quiet and don't produce harmful fumes. We carry stationary models that can be used in wash bays and portable models with wheels or casters. Plus, you don't need to worry about refuelling an electrical pressure washer or performing engine maintenance.
Gas- and diesel-powered pressure washers are ideal for outdoor locations and remote worksites because they don't need to be plugged in. They can be mounted to trailers, trucks or skids for easy transportation. These heavy-duty units are built to withstand the toughest environments: the frames are welded rather than bolted together, and the tanks are polyethylene instead of metal to prevent rusting.
The Hotsy team can help you configure your unit to deliver maximum cleaning power and efficiency. Get the most out of your pressure washing system by outfitting it with our lineup of accessories, including hoses, wands and reels.
We also carry over 50 types of detergents and sanitizing agents to clean up the toughest messes, from thick grease and hydraulic oils to corrosive salts and heavy soils.
Pressure washer sales, service and repair
Start building your arsenal of pressure washing equipment at Hotsy Water Blast. No matter your needs, we have an industrial pressure washer to get the job done right. We carry over 100 models with a wide range of functionality, including temperature and mobility options. Start each cleaning job with top-quality equipment.
If you already have your own pressure washing unit, you must ask yourself: is it always performing at its best? Bring your equipment down to our service centre to get maintained and repaired. If you can't come in person, you can arrange to have our mobile unit come straight to your facility to get the job done on-site.
Even if you didn't purchase your pressure washer from Hotsy Water Blast, we can still take care of your gear. Our experienced mechanics will conduct a 50-point inspection to get to the root of the problem.
Scheduled pressure washer maintenance program
Prevent minor issues from turning into major breakdowns by registering for Hotsy's scheduled maintenance program. Once you sign up, one of our trained Hotsy technicians will periodically visit your property to assess your pressure washer system and conduct any necessary maintenance to ensure it remains in optimal condition.
Our technician will change the pump oil, tighten belts, remove and replace the micro switch and remove and replace the standard spray nozzle. They'll also test your machine with a pressure gauge to ensure all systems work satisfactorily.
Custom pressure washer designs and professional installation
If you need an innovative solution to serve the unique needs of your operation, count on the experts at Hotsy Water Blast to design a custom pressure washing system. With over four decades of experience, if our team doesn't have the right solution in our extensive inventory, we'll bring one to life through custom design. There's almost nothing we can't engineer to help your business reach its goals.
Once we've designed a system that exceeds your expectations, our team will ensure its correctly installed. We'll go beyond delivering the equipment you envisioned; we'll provide on-site training on proper usage and maintenance. We want you to be able to use your new pressure washer effectively and safely the first time and every time.
Pressure washer leasing and rentals
If you need a pressure washer but don't have the budget to purchase one outright, consider Hotsy's pressure washer leasing or rental service. Leasing lets you start working with your pressure washer today with no money down. Hotsy Water Blast offers several financing options. We can tailor your monthly payments to make them affordable for your business.
Pressure washer sales, rentals and repairs in Red Deer
Whether your company is blasting old paint off a wall or degreasing heavy machinery in the oilfield, Hotsy Water Blast has the pressure washing solution and equipment for you. Ready to get to work? Call our Red Deer branch at 403-309-2271 today, or pay us a visit to discuss your pressure washing needs.