Hours:
Monday:
8:00 AM - 5:00 PM
Tuesday:
8:00 AM - 5:00 PM
Wednesday:
8:00 AM - 5:00 PM
Thursday:
8:00 AM - 5:00 PM
Friday:
8:00 AM - 5:00 PM
Saturday:
Closed
Sunday:
Closed
Hotsy Pressure Washers Located in Red Deer, Alberta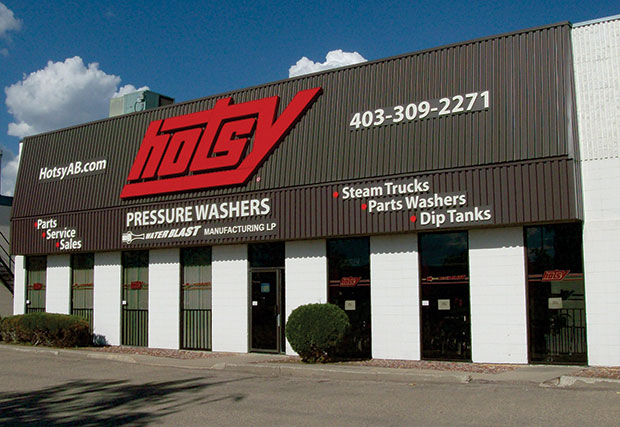 If you frequently do business between the two major cities of Edmonton and Calgary, then there is an ideal location for your pressure washing needs at Hotsy Water Blast in Red Deer. Pressure washers are in high demand for most of our major industries in central Alberta, and you will always find the exact products and solutions for your job. Whether you are doing business in oil & gas, agriculture, automotive, or even residential work, drop by our Red Deer branch today and we will find the right solution for your cleaning needs.
Maintain your big machines, remove layers of grime to prepare any surface, or keep your job site clean with the efficient power of pressurized water. At Hotsy Water Blast we keep it simple, but give you virtually endless options. Be ready for anything, but first visit our down-to-Earth Red Deer location today for pressure washer sales, parts, service, and repairs. We look forward to seeing you in the shop!
Pressure Washer Sales, Servicing, & Repairs
Building your arsenal of pressure washing equipment starts at Hotsy Water Blast. For whatever you need to tackle, we have the industrial-grade pressure washers to get the job done. Our collection of over 100 models of pressure washers offers a wide range of functionality, including temperature and mobility options. Begin each cleaning job with top quality equipment. Even if you have your own gear already, you have to ask yourself: is it always performing at its best? Bring your own equipment down to our service centre to get maintained and repaired.
Even if your pressure washer didn't originally come from Hotsy Water Blast, we can still take care of your gear. Our experienced mechanics will apply a 50-point inspection to discover exactly what is preventing functionality. Even if you can't make it into our location, our fleet of maintenance vehicles will come straight to you and get the job done on-site.
Where Unique Designs Meet Thorough Installation
For innovative solutions that complement the job at hand, ask the experts at Hotsy Water Blast to design a unique system to your exact specifications. With our four decades of experience, if we don't have the solution for you already then we'll bring one to life. There is almost nothing we can't engineer to help your business reach its goals.
Once we have designed a system to your liking, our specialists will ensure that your new pressure washing system is set up and ready to go. Not only can we deliver the equipment that you have envisioned, but we can provide on-site training on proper usage and maintenance. We want you to be able to use your new pressure washer effectively and safely the first time and every time.
Contact or Visit Red Deer's Hotsy Water Blast
Ready to get to work? Give us a call today or pay us a visit at our location in Red Deer for all your pressure washing needs in central Alberta. Whether your company is blasting old paint off of a wall or degreasing heavy machinery in the oilfield, we will find the right pressure washing solution and equipment for you.