The Water Maze WB is a Super-Efficient Wastewater Evaporator Using Patented Technology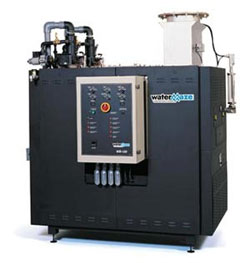 The WB uses a super-efficient system of submerged combustion in which heat is forced through a submerged tube and released directly into the water for 100% heat exchange. This provides dramatic operational and energy cost savings.
Featuring a top of the line immersion tube jet burner with a solid-state flame control monitor, the WB creates temperatures of up to 2000°F that is sent right into the water, not up a vent stack. Surrounding water is immediately flash boiled, and concentrated waste is collected in the tank bottom and automatically removed using the auto purge feature. All models are CSA approved.
For more information on the WB wastewater evaporator and available options and upgrades, please contact Hotsy Water Blast at or call one of our 9 convenient locations. In Alberta: Edmonton, Calgary, Lethbridge, Red Deer, Grande Prairie. In British Columbia: Langley. In Saskatchewan:  Regina. In North Dakota: Williston and Bismarck.