Industrial-grade parts washer and pressure washer detergents and sanitizing agents
Hotsy carries a full line of specially formulated detergents for use with hot and cold water pressure washers and parts washers. Hotsy detergents contain advanced-formula HCC additives that protect your equipment against scale buildup and corrosion. These products are also biodegradable and therefore safe for the environment.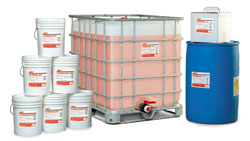 A little goes a long way
Hotsy pressure washer detergents are highly concentrated, with a final dilution ratio of up to 1:1000. In addition, they're industrial-grade and designed to lift dirt, grease and grime on the first pass.
Hotsy detergents can be purchased in a number of different sizes, from 5-gallon buckets to large 55-gallon drums. For industries using large quantities, we offer 1000L totes.
Detergents for every application
There are over 50 Hotsy detergent formulas, from all-purpose cleaners and degreasers to specialty detergents for the food, agriculture, construction, commercial cleaning and transportation industries. All Hotsy pressure washer detergents are designed for a specific application, so you can be sure that there's a product that fulfills your company's cleaning needs.
Some of our top sellers
Here are a handful of Hotsy detergents that are in high demand:
This detergent is designed to clean truck trailers, construction equipment, snowplows and other vehicles and machines that are exposed to the corrosive salts used on roadways during winter. Salt Lick not only washes away all salt residue, it's also highly effective at removing heavy soil.
This low-foaming detergent is designed to clean floors and can be used with a pressure washer, flat surface cleaner or water broom.
This heavy-duty degreaser is ideal for cleaning heavy-duty equipment. Ripper I is also used for washing down shop floors and walls and for other cleaning applications that require a powerful detergent.
The big brother to Ripper I, Ripper II detergent has extra degreasing power and is ideal for removing thick grease oil and hydraulic oils from heavy equipment.
A highly concentrated degreaser, Carbon-ATE is designed to remove carbon (diesel smoke and exhaust), road film, grease and grime from engine compartments and vehicles. It also works great on metal and polished aluminum components.
This is a sanitizing solution that kills 99.99% of bacteria, mould, fungi and viruses, including noroviruses and coronaviruses. It eliminates odours and allergens. It's gentle on the skin and can be used on almost any surface. Common applications for Vital Oxide including sanitizing food contact surfaces and eliminating microbes in HVAC and duct systems.
This detergent blasts through dirt, grease and grime, making it a popular choice for cleaning vehicles and heavy equipment. It's also ideal for washing stainless steel, aluminum, and painted surfaces.
This specialized detergent is designed to completely erase spray paint without leaving any residue or discolouration. The Fat Cap formula works on a variety of surfaces, including concrete, brick, stone, painted stone, wood and masonry.
Get the Hotsy pressure washer detergents you need
For superior detergents and expert advice, turn to the experienced team at Hotsy Water Blast. Contact us to learn more about the benefits of using Hotsy cleaning products. We have locations in: Regina, Saskatchewan; Langley, British Columbia; Williston, North Dakota; Bismarck, North Dakota; and Edmonton, Calgary, Lethbridge, Red Deer, and Grande Prairie in Alberta.