Hours:
Monday:
8:00 AM - 5:00 PM
Tuesday:
8:00 AM - 5:00 PM
Wednesday:
8:00 AM - 5:00 PM
Thursday:
8:00 AM - 5:00 PM
Friday:
8:00 AM - 5:00 PM
Saturday:
Closed
Sunday:
Closed
Hotsy Cleaning Systems Located in Calgary, Alberta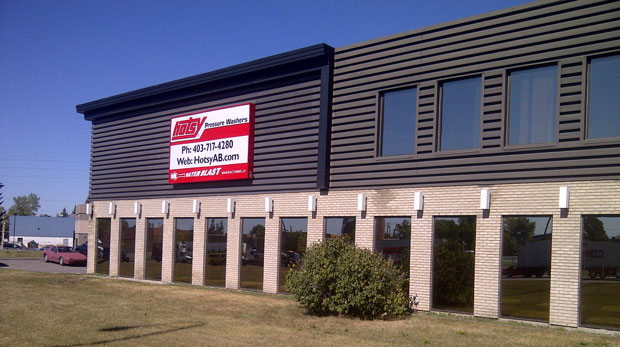 Our Calgary branch is located in an area of the province of Alberta that services many different industries. With many of the oil and gas head offices located in the city, we make it easy for them to find the right solution to their cleaning needs. We also service many other industries, including automotive, transportation, construction and agriculture. The Calgary branch is unique in the sense that we cover it all, and we can find the right machine for you. Come visit us today!
When it comes to maintaining your assets and ensuring a job well done every time, it doesn't get more efficient than a pressure washer. To degrease your equipment and keep a job site spotless no matter how messy your industry, Hotsy Water Blast in Calgary provides pressure washer repairs and sales to fit your needs.
Sales & Repairs
Broken equipment? Need an upgrade? The knowledgeable staff at our easily-accessible location can offer you advice on the best options for your industry, whether you're operating a large oilfield or a small-scale cleaning business. We offer over 100 models of industrial-grade pressure washers of all kind: hot or cold, mobile or stationary. If you're having trouble with your existing equipment, repairs are only a visit away. Can't make it to our location? We have an 18-truck fleet of maintenance vehicles that can go on location and help you right on site.
Though we specialize in Hotsy equipment, we are able to service and repair most cleaning equipment including:
Parts washers
Car and truck wash bays
Steam skids
With experienced mechanics who take the longevity of your equipment to heart, Hotsy Water Blast is the destination for Calgary's pressure washer repair needs. We have an extensive 50-point inspection that is sure to find flaws in your equipment and help you get your business back on track in a timely manner.
Design & Engineering
The only way to survive in competitive industries is to innovate. When it comes to finding out new and efficient ways to use your equipment, don't let yourself be limited by what's available on the market. At our Calgary location, we are able to design and engineer equipment to your exact specification to help your fully realize the vision you have for your business and help you grow.
Installations
The Hotsy Water Blast team – with its 4 decades of experience in the field – knows pressure washers. Whether you're in the hydrovac business or require a complex hot water system for the particular degreasing needs of your oilfield equipment, our specialized team can make sure that your new system is set up and ready to go when you need it. From pre-installation on-site visits to training you on the proper use and maintenance of your system, we are dedicated to ensuring that your new equipment performs as expected the first time, and every time.
Visit Us Today
Whether you're looking to buy, repair, or manufacture your pressure washing system, our Calgary location can handle your needs. Schedule a service call, and installation, or come meet us to discuss your new purchase or your needs for a custom machine.