The Water Maze CoAg2-20A is an Advanced Chemical Treatment System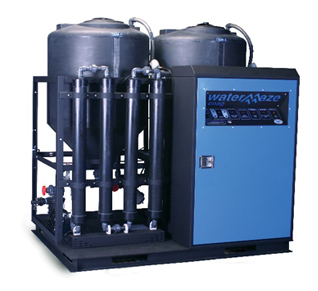 The Water Maze CoAg2-20A System uses the method of adding a chemical coagulant and polymer to the treatment process, to efficiently remove suspended solids and emulsified oils from the waste stream. The CoAg2-20A can be used on its own as the primary water treatment system, or as a pre-treatment system with other technologies, such as Electro-Coagulation or Bioremediation.
Water Maze uses CoAg+ which is a proprietary coagulant specifically formulated to treat suspended contaminants. The air actuated control valves are for directing the water flow and with a simple and automated operation it is controlled with one button.
Internal tanks are cone bottom design with automatic purge system for easy sludge removal. All models are CSA approved.
For more information on the CoAg2-20A System and available options and upgrades, please contact Hotsy Water Blast at or call one of our 9 convenient locations. In Alberta: Edmonton, Calgary, Lethbridge, Red Deer, Grande Prairie. In British Columbia: Langley. In Saskatchewan:  Regina. In North Dakota: Williston and Bismarck