Hours:
Monday:
8:00 AM - 5:00 PM
Tuesday:
8:00 AM - 5:00 PM
Wednesday:
8:00 AM - 5:00 PM
Thursday:
8:00 AM - 5:00 PM
Friday:
8:00 AM - 5:00 PM
Saturday:
Closed
Sunday:
Closed
Pressure washer system sales, leasing and repairs in Grande Prairie, Alberta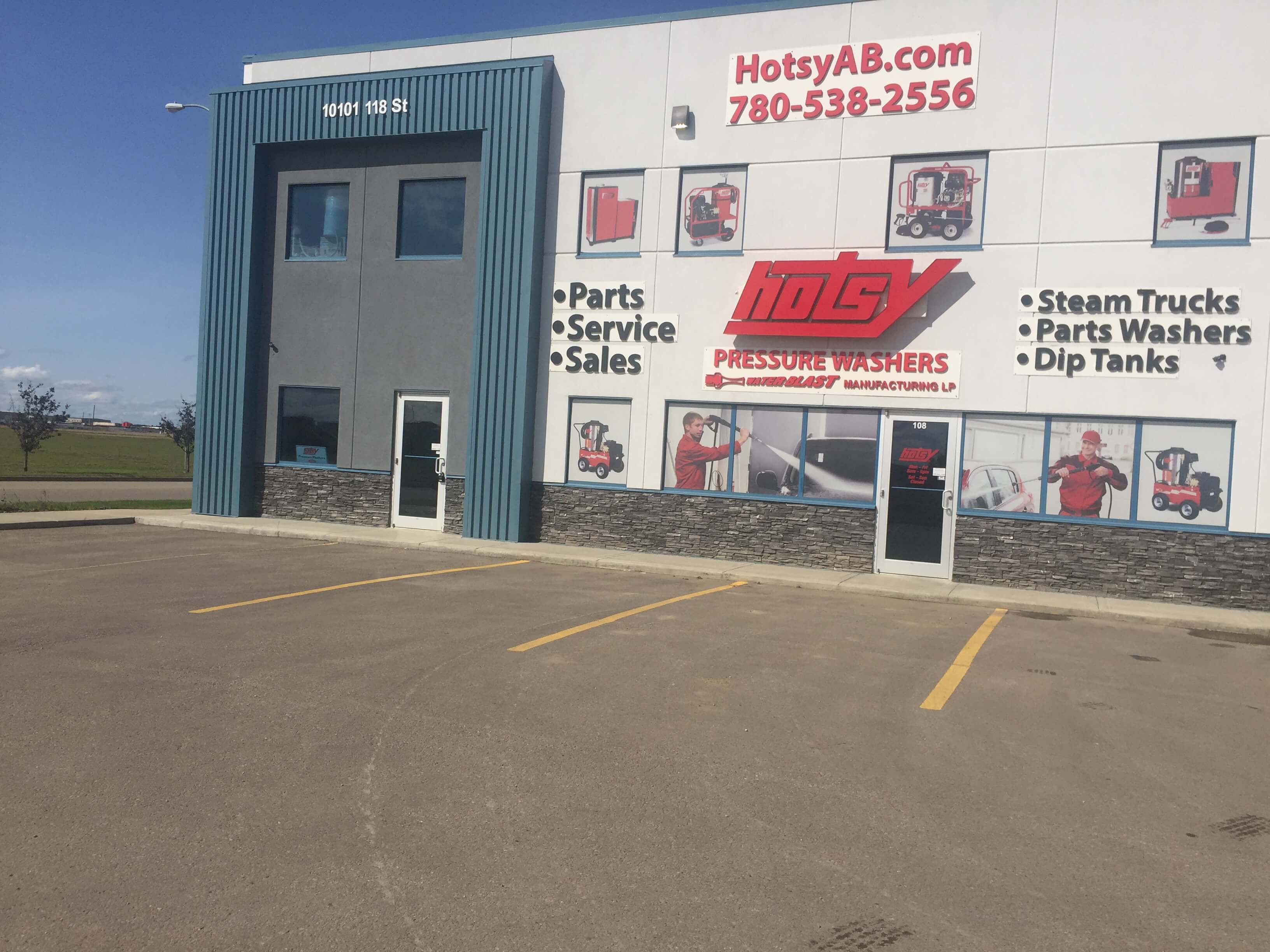 Hotsy Water Blast's Grande Prairie branch in the heart of Peace Country serves customers in Grande Prairie and across northern British Columbia. With clients working in oil and gas, resource extraction and agriculture, we provide serious pressure washing power to keep their heavy equipment in top form.
Whether you need wash bays for your semi-truck fleet, a hot water pressure washer for your waste management equipment or a trailer-mounted pressure washing system for remote oilfield work, Hotsy has you covered. Call our Grande Prairie branch at 780-538-2556 today or visit in person to find the best product for your operation.
Our pressure washer models
Hotsy Water Blast in Grande Prairie is surrounded by farmland. Hotsy Water Blast has pressure washers that can handle your toughest, dirtiest jobs. Our inventory includes diesel-fired, gas-powered, electric, skid-mounted and stationary models that meet or exceed industry safety standards. With over 100 models to choose from, we'll help you find the cleaning system you need.
Specific jobs require specific tools. Hotsy Water Blast's impressive selection of pressure washer accessories and attachments, including wands, hoses and reels, will increase the functionality and precision of your washer system.
For your sanitation needs, our team can help you find the detergent or sanitizing agent best suited to your operation. Hotsy pressure washer detergents are highly concentrated, industrial-grade and designed to lift dirt, grease and grime on the first pass. From degreasing oil machinery to cleaning forestry equipment, we have the gear to streamline your cleaning process.
Custom pressure washing systems
Hotsy Water Blast in Grand Prairie creates custom pressure washing systems to meet the cleaning needs of any job. Albertans specifically come to us because we specialize in custom-designed wash bays and repairs on hydrovac and steam truck washers.
Your hard work in Alberta's heartland requires heavy-duty machinery and some of the most rugged tools. We understand that you need an innovative cleaning solution custom-built to your specifications. Leave it to the experts at Hotsy Water Blast to design a pressure washing system that meets your exact requirements. With our unique combination of products and features, if you can imagine it, we can engineer it.
Installing custom cleaning systems
After creating a system to your specs, our team of trained installation experts will help get everything set up and working for you. After delivering and installing your new pressure washing equipment, we can provide your staff with the training they need to operate it effectively. Your crew will learn the proper usage and maintenance to ensure longevity and maximum functionality. Safety and efficiency are our main focus to set you up for success.
Pressure washer maintenance and repairs
If your cleaning system starts making strange noises or stops working, Hotsy Water Blast can perform comprehensive pressure washer repairs at our Grand Prairie location. We also have a mobile fleet of repair technicians that can visit your facility to fix your unit on-site.
We also have a complete inventory of pressure washer parts. You can pick up everything you need, or we'll gladly send a technician to deliver and install the replacement parts to avoid costly downtime.
Regular maintenance is a must if you want to avoid costly pressure washer repairs. That's why Hotsy Water Blast offers a scheduled maintenance program for commercial and industrial clients. Using a 50-point inspection checklist, our technicians will verify everything from the oil levels and pulley alignment to the fuel tank and electrical switches.
Pressure washer rentals and leases
Do you need a pressure washer for a limited time or a specific project? Hotsy Water Blast in Grand Prairie offers short-term rentals and long-term lease agreements. Choose from various gas-powered and electrical pressure washer models that provide optimal results in even the harshest industrial environments and climates. You save ownership costs like maintenance, repairs and storage. You get the equipment you need when you need it.
Industrial pressure washer systems for demanding industries in Grande Prairie
From cattle sheds to semi-trucks, count on Hotsy Water Blast for the right pressure washing products for your cleaning needs. Give us a call today or pay us a visit at our location in Grande Prairie for all your pressure washing needs in northwest Alberta. Call our Grande Prairie branch at 780-538-2556 today or visit us in person to find your ideal pressure washing system.