Hours:
Monday:
8:00 AM - 5:00 PM
Tuesday:
8:00 AM - 5:00 PM
Wednesday:
8:00 AM - 5:00 PM
Thursday:
8:00 AM - 5:00 PM
Friday:
8:00 AM - 5:00 PM
Saturday:
Closed
Sunday:
Closed
Hotsy Pressure Wash Systems Located in Grande Prairie, Alberta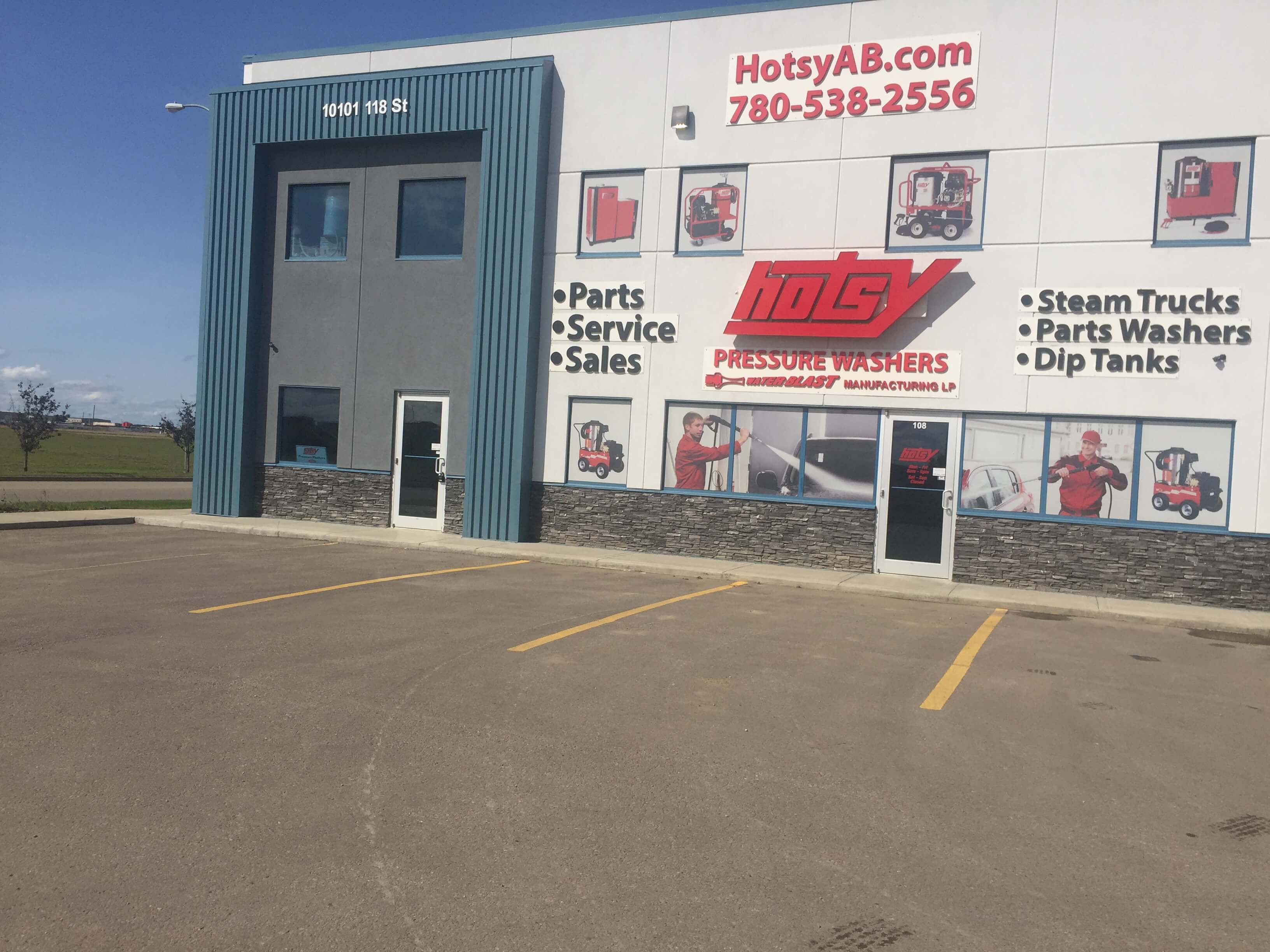 Northwest of Edmonton, our Grande Prairie branch is located in the heart of the Peace Country serving customers across Grande Prairie and Northern British Columbia. As a business stationed in northern Alberta, many of our clients work in oil & gas and in resource extraction. It's no surprise that both of these industries operate heavy duty vehicles and require serious machinery, making their pressure washing needs just as large of a task. In addition we are surrounded by farmland, and, as one could imagine, agricultural and livestock work can be dirty jobs!
Hotsy Water Blast in Grande Prairie offers customizable pressure washing systems to meet the cleaning needs for any job. Albertans specifically come to us because we specialize in vac and steam truck repairs and custom designed wash bays. Come visit us at our Grande Prairie branch and we will outfit you with the best product for your specific application.
Installing Custom Pressure Washing Systems for the Toughest Industries
Very specific jobs require very specific tools. The hard work you do out there in Alberta's heartland requires heavy duty machinery and some of the most rugged tools. You need an innovative cleaning solution, custom built to your specifications. Reach out to the experts at Hotsy Water Blast to design a pressure washing system to meet your exact requirements. With a unique combination of products and features, if you can imagine it then we can engineer it.
After creating a system to your specifications, our team of trained installation experts will help to get everything set up and working for you. After delivering and installing your new pressure washing equipment, we can also provide the training needed to operate it the most effectively. Your crew will learn the proper usage and maintenance to ensure longevity and maximum functionality. Safety and efficiency are our main focus in order to set you up for success.
Contact or Visit Grande Prairie's Hotsy Water Blast
Give us a call today or pay us a visit at our location in Grande Prairie for all your pressure washing needs in northwest Alberta. From degreasing oil machinery to cleaning forestry equipment, we have you covered. Whether you need to blast out a cattle shed or clean off a tractor after a long day, we have the right pressure washing products for you. When the job is finished and you need to clean up the remaining mess, count on Hotsy Water Blast to help you get it done.