Cold Water vs. Hot Water Pressure Washer: Which One Is Better?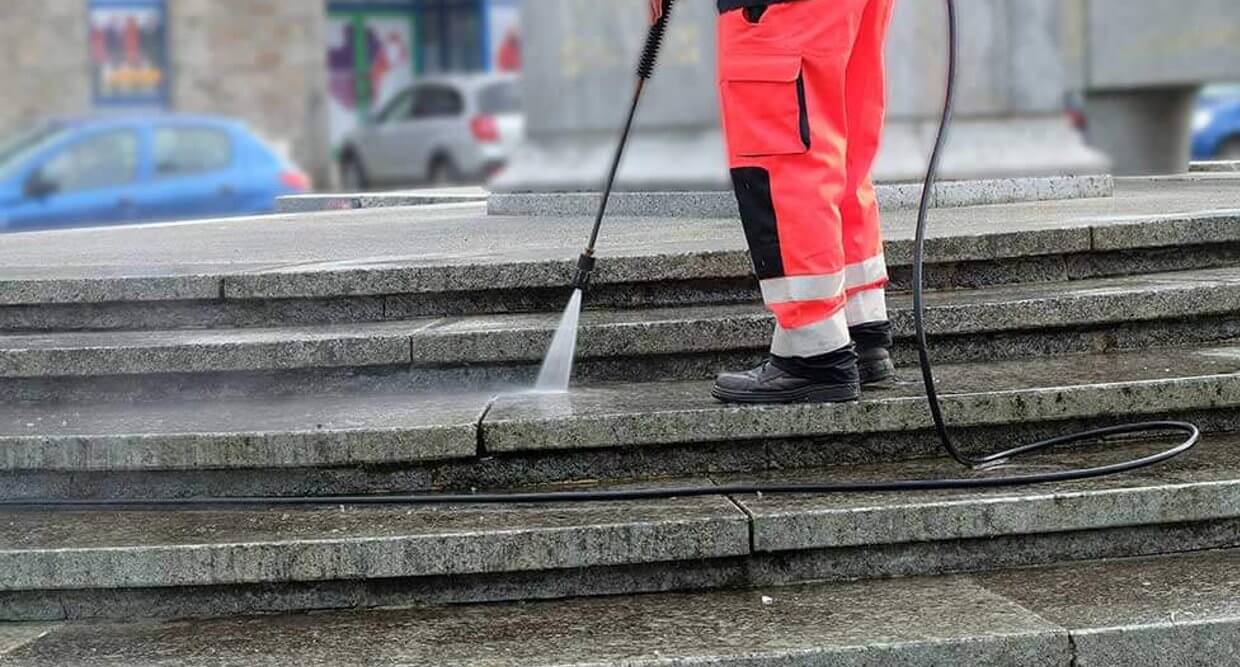 If you're in the market for a new pressure washer for your Vancouver business, you're probably wondering whether you should choose a hot or cold-water unit. But the answer to which one is best depends on how you'll be using it. Both hot and cold-water pressure washers have their strengths, so keep reading to find out which one is better suited to your needs.
Can you use hot water in a cold-water pressure washer?
One can run warm water through a cold water pressure washer safely up to 150 degrees Fahrenheit – 65 degrees Fahrenheit. You cannot run hot water, especially at extremely high temperatures, through your cold-water unit. You could potentially melt the seals in the pump, and overheat the unit. All that said your hot water tank likely wouldn't be able to keep up with the demand for very long.
Is hot water better than cold for cleaning?
It depends on what you're cleaning. Cold water is recommended for high volume low pressure applications to knock away caked on mud and debris or when stripping away paint. For all other applications Hot water will allow for faster cleaning and reduce the amount of detergent required. Hot water is especially recommended when cleaning grease and oil.
If you're in the agricultural, transportation or construction industry and you need a pressure washer to blast away caked on mud and dirt, then cold water will do the trick. But if you're trying to clean engine grease, or you're in the food processing industry and you're counting on your pressure washer to help you break down grease and fat, kill harmful bacteria and maintain rigorous health and safety standards, then you'll need a hot water unit.
While hot water helps clean everything better than cold water does, it isn't always necessary. If you want to learn more about which type of pressure washer is best suited to your industry, be sure to download our free guide – 9 Things You Must Know Before Buying a Pressure Washer
What is the best hot-water pressure washer?
One of the most well-known brands in high-pressure cleaning equipment is Hotsy. Hotsy pressure washers feature rugged high-pressure pumps backed by a 7-year warranty and are built with durable re-enforced frames for maximum durability and longevity. Hotsy units are built to last, which is why Hotsy is one of the most trusted names for high-pressure cleaning equipment on the continent.
What is the best cold-water pressure washer?
If you're looking for a cold-water pressure washer that can handle the toughest jobs you can throw at it, nothing but a Hotsy will do. Hotsy is an industry leader with more than 35 different models of cold-water units alone.
Learn more from the pressure washers pros
Visit a Hotsy Water Blast near you to find out more or browse our extensive selection of high-pressure cleaning equipment. For superior cleaning that will speed up your sanitation process, saving you time and money, choose Hotsy. Contact us today to learn more about our custom cleaning solutions.