6 benefits of electric pressure washers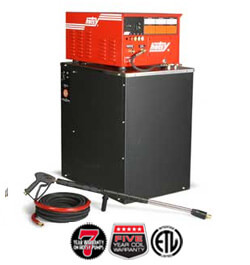 Commercial and industrial pressure washers are configured with fully electric models or models with a combination of electric powered and Oil, Natural Gas, or Propane fired heaters.
Over the years, electric pressure washers have become increasingly popular because of their numerous benefits. Since modern models are durable, powerful and efficient, there's no longer any reason to settle for a loud, heavy and expensive gas-powered machine. If you're in the market for a new pressure washing system for your commercial or industrial business, here are six reasons to invest in an electric pressure washer rather than a gas-powered model.
They're quieter
The noise a gas-powered washer makes can reach up to 100 decibels, which is enough to harm your hearing if you're not careful. Electric washers, on the other hand, only emit about 78 decibels, which is similar to a conventional washing machine. This means you don't have to worry about wearing hearing protection when you use an electric unit. Additionally, they're better suited for environments where noise needs to be kept to a minimum, such as in hospitals and schools.
They're lighter
Electric pressure washers are a lot lighter than gas-powered units because they don't have a heavy gasoline motor or fuel tank. Entry level electric pressure washers have a smaller footprint. This makes them easier to manoeuvre around corners and in narrow spots. Since electric units need to be plugged in, however, they must be used near a power source. Fortunately, you can purchase hose extensions to access hard-to-reach areas.
They're safer
Fully electric pressure washers don't need diesel or gas to operate, they don't emit noxious fumes that may be harmful to your health and the environment. Unlike gas models, which can only be used outdoors or in well-ventilated areas, fully electric pressure washers are safe to use indoors and in enclosed spaces. This makes them ideal for the manufacturing and food processing industries.
They require less maintenance
Electric pressure washers require little to no upkeep since they don't have many moving parts. On the other hand, gas pressure washers require regular cleaning and engine maintenance.
They're easier to use
Electric pressure washers can be started with the push of a button. Gas-powered models, on the other hand, may require pull starting, which can be difficult. Another upside to electric pressure washers is that you can just plug them in and start working. Conversely, gas washers need to be topped up with fuel before using.
They're more affordable
The initial cost of an electric pressure washer is less than that of a gas-powered model. In addition, you don't have to spend money on fuel or oil which can lead to considerable savings in the long run.
Lastly, many people often assume that electric pressure washers don't deliver as much power as their gas counterparts. However, that simply isn't true. You can purchase commercial-grade electric pressure washers that provide up to 3,000 PSI of pressure, such as Hotsy's 5730SS.
Electric hot water pressure washers
If your business has demanding cleaning needs, you may want to invest in a commercial electric hot water pressure washer. Hot water pressure washers require less pressure, clean faster and don't use as much detergent. Hot water pressure washers can also accommodate a large number of electric pressure washer accessories, from hoses and reels to a variety of specialized nozzles, wands and guns. You can choose from portable models such as the 895SS Series and 800 Series.
Leading pressure washer retailer in Western Canada
If you need help finding an electric pressure washer for your commercial or industrial business, the team at Hotsy Water Blast can help. We carry a wide variety of high-powered electric pressure washers and can help you determine which accessories and setup are right for your needs. Hotsy also carries more than 50 types of industrial-grade detergents for a variety of specialized applications. To request a custom quote, contact us today. We have locations in Alberta, British Columbia and Saskatchewan.