The Water Maze Delta Low Profile is a Wash-Water Treatment and Recycling System That is Compact and Self-Contained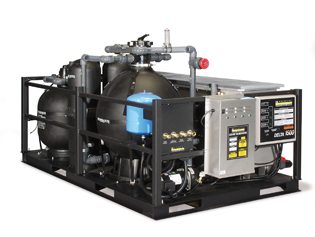 The Water Maze Delta Low Profile Filtration System is the ideal solution when a wash facility is already equipped with a collection pit or pre-treatment system.
The Delta systems are self-contained and because of their low profile they can be conveniently installed inside a building or next to a wash pad. The system features up to 500 sq. ft. of cleanable, polyester, filter elements for screening contaminants to 5 – 20 micron in size and has a flow rate of up to 30 GPM.
For more information on the Delta Low Profile and available options and upgrades, please contact Hotsy Water Blast at or call one of our 9 convenient locations. In Alberta:Edmonton, Calgary, Lethbridge, Red Deer,Grande Prairie. In British Columbia: Langley. In Saskatchewan:Regina. In North Dakota: Williston and Bismarck.