Commercial cleaning equipment: useful applications for pressure washers

A pressure washer from Hotsy Water Blast is one of the most versatile purchases a business can make. Not only does Hotsy Water Blast have over 100 portable and stationary pressure washers with hot and cold models, we also have accessories and other cleaning equipment that can make a pressure washer even more useful in a variety of different situations. If you're a business owner in Calgary, Vancouver or Edmonton, you already know that making a profit is all about efficiency. You don't just need things done fast, you need them done well. Pressure washers are multi-tasking pieces of machinery that can help your employees do their job right. Here are just a few industries in which a Hotsy Water Blast pressure washer are useful: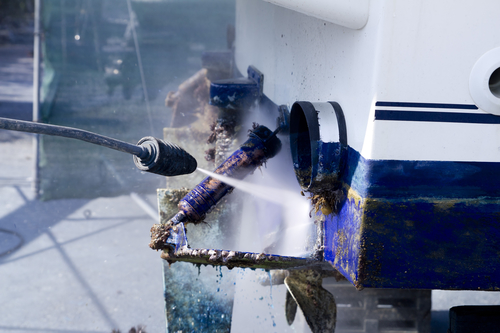 Transportation
From trucks to boats to airplanes, anyone whose business it is to transport passengers or products knows that if their fleet isn't on the move, it's not making money. This necessitates keeping your downtime to a minimum. A pressure washer is one of the most efficient and thorough methods for cleaning trucks, boats or airplanes so that they're back on their way quickly, and representing your company with a clean look.
Food processing industry
In the food industry, one of the most important concerns is cleanliness. Even one mistake could severely damage your company's reputation. Pressure washers can be an essential part of keeping your heavy-duty equipment clean. They're effective and reliable so they'll help you maintain your facilities and machinery, and ensure everything safe for use.
Commercial real estate
If you're responsible for a business park or office building, you want to project an air of success. A Hotsy Water Blast pressure washer can help you keep your building looking clean and professional with minimal effort.
Construction
If there's one thing that you can be sure of in the construction industry, it's that you're going to get dirty. At the same time, you need to protect your assets from the regular wear and tear that heavy use and rugged conditions bring with them. Having a portable pressure washer on site will allow you to regularly clean your equipment and greatly extend your assets' useful life.
Agriculture
Like the construction industry, farming is all about keeping your equipment in good working order. Tractors are one of the most important types of machinery and you want to make sure that yours is treated right. With cleaning equipment from Hotsy, you can keep your tractor clean, and prevent diseases like clubroot from spreading field to field.
At Hotsy Water Blast Manufacturing,  we can custom make a portable pressure washer to fit your needs. We also offer all our customers maintenance services and a variety of specialized detergents designed to work in the most challenging conditions and on the toughest kinds of grease, dirt, and grime. If you're in the Edmonton, Calgary, or Vancouver areas, contact us today to find out more about how a pressure washer can help your business.