Product spotlight: Breakthrough! detergent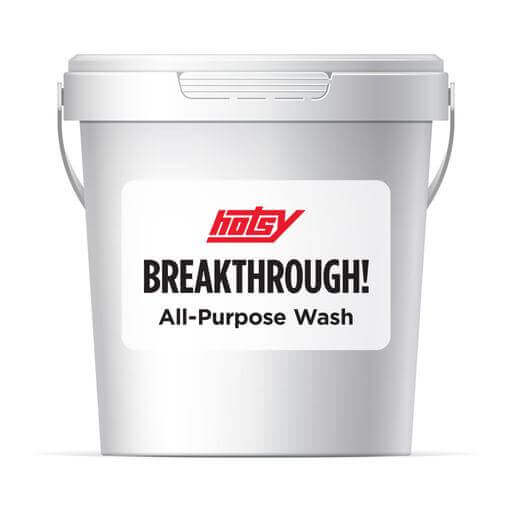 In addition to offering a comprehensive selection of pressure washers, Hotsy Water Blast carries a full line of detergents. These products have been specially designed for pressure washers and for high-temperature cleaning. One of our biggest sellers is Hotsy Breakthrough! detergent. Here's what makes this product stand out.
Benefits of Hotsy Breakthrough!
Breakthrough! is first and foremost a degreaser. It's a high-foaming, scentless detergent that's extremely effective at removing crude oil and caked-on grease. However, it's a versatile product that's suitable for general cleaning and gentle enough to use on fine finishes such as vehicle exteriors.
Additionally, Breakthrough! Offers the following advantages:
It has a dilution ratio of 150:1, which makes the product long-lasting and thereby economical
Approved by the Canadian Food Inspection Agency (CFIA) and USDA and registered with Chemtrec
Guaranteed not to damage pressure washers, steam cleaners or similar products
Protects pressure washer components thanks to Hotsy's exclusive Continuous Clean Additive
Contains corrosion-inhibiting additives that provide lasting protection to metal equipment and surfaces
Fully biodegradable and free of ingredients that cause smog or damage the ozone layer
Can be used with hot or cold water and hard or soft water
Available in 5-gallon pails, 55-gallon drums and Hotsy Bulk-Paks, which range from 250 to 500 gallons
Uses for Hotsy Breakthrough!
Hotsy Breakthrough! is used extensively in the oil and gas, agriculture, food processing, construction and transportation industries. It's effective at removing grease, oil, baked-on carbon, diesel smoke, road film and much more.
Specifically, it's recommended for use on the following materials and surfaces:
Stainless steel
Aluminum
Oxidized paint
Asphalt and tar
Floors and walls
Heavy machinery
Painted and unpainted surfaces
Hotsy Breakthrough! can also serve your business' general cleaning and sanitizing needs. Companies have become increasingly aware of the importance of disinfecting workplaces of all kinds. Sanitizing surfaces, which was already the norm in industries such as food processing and pharmaceuticals, is becoming common for other types of businesses. By using a hot water pressure washer and a quality detergent like Hotsy Breakthrough! you can sanitize your workplace and thereby protect your customers and employees against contamination.
Get Hotsy Breakthrough! in Western Canada and North Dakota
If you'd like to obtain Hotsy Breakthrough! or another Hotsy detergent, reach out to a Hotsy Water Blast location in Alberta, British Columbia, Saskatchewan or North Dakota. We also carry over 100 pressure washer models and a range of accessories, including the Hotsy Foam Cannon, which allows you to apply a thick layer of detergent using a spray gun. Contact us to ask our experts about which pressure washer detergent is right for your business.