Cleaning large industrial equipment with a pressure washer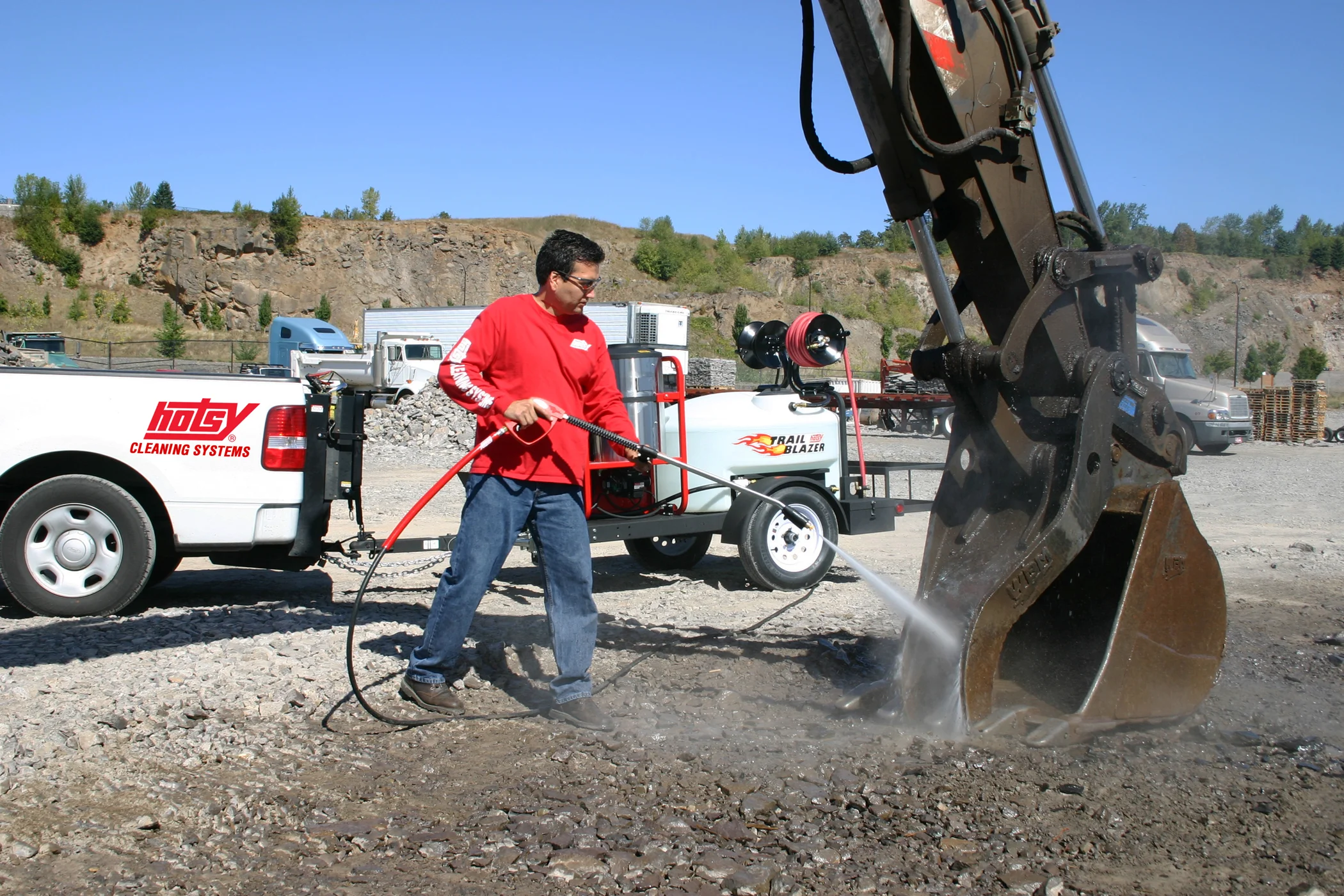 Keeping industrial equipment clean is essential for it to work efficiently and to extend its lifespan. To minimize labour costs and downtime, your staff must know the fastest way to clean equipment without risking property damage or personal injury. Here are some best practices for cleaning large industrial equipment.
Step-by-step pressure washing
To set up and execute an effective, efficient system for cleaning large industrial equipment, follow these steps:
Create a dedicated space. To comply with environmental regulations, you'll likely need a wash bay with suitable catch basins and drainage. Your options include a permanent washing space or a mobile wash bay that can be moved to various sites.
Choose the right pressure washer. Pressure washers come in portable and stationary models. You'll need to choose from various power sources, functionality for cold or hot water and a broad range of water pressure capabilities. Discuss your needs with a professional supplier before making your decision.
Disassemble the equipment. Before starting to clean a machine, detach all removable parts. This step is a massive time saver because it allows you to clean each piece one time only without spreading dirt to already-cleaned components.
Clean the dirtiest sections first. Wash heavily soiled sections first so you don't spread dirt to sections you've already cleaned. For most heavy equipment, this means starting with the undercarriage.
Don't reassemble immediately. Allow time for the components to air dry before putting them back in place.
Using the right cleaning detergents and suitable pressure washer attachments can make your pressure washing process even more efficient.
Pressure washer safety
A heavy-duty pressure washer has enough power to strip paint and break concrete. Before turning on the machine, familiarize yourself with the following precautions:
Get to know the machine by reading the manual. Use the safety latch when appropriate and release any residual pressure after you're finished using the machine.
Wear appropriate ear protection, goggles and safety boots. Avoid operating a pressure washer with exposed arms or legs.
Take care when you aim the pressure washer and brace yourself for that first shot. Keep it pointed toward the ground when it's not in use.
Never operate the pressure washer while standing on a ladder.
Be aware of your surroundings and spot any potential points where people or vehicles can move into the range of your spray.
Pressure washer systems in Western Canada and North Dakota
 At Hotsy Water Blast, we offer pressure washer sales, rentals and leasing for a wide range of systems for various industries. We also provide pressure washer repairs and scheduled maintenance to keep your system performing at its best for longer. Contact us today for information on our pressure washers or advice on setting up your new wash bay. We're located in Edmonton , Calgary, Lethbridge, Red Deer, Grande Prairie, Langley, Regina, Williston and Bismarck, North Dakota.