Accessory Spotlight: Flat Surface Cleaner

If you've ever used a pressure washer, you already know how much time they can save you for even the toughest cleaning jobs. Did you know, however, that we at Hotsy Water Blast Manufacturing LP also offer a number of pressure washer parts and accessories? These additions and replacements make your machine even more efficient when it comes to different kinds of jobs in Vancouver, British Columbia, Edmonton or Saskatchewan that require a more specific kind of cleaning.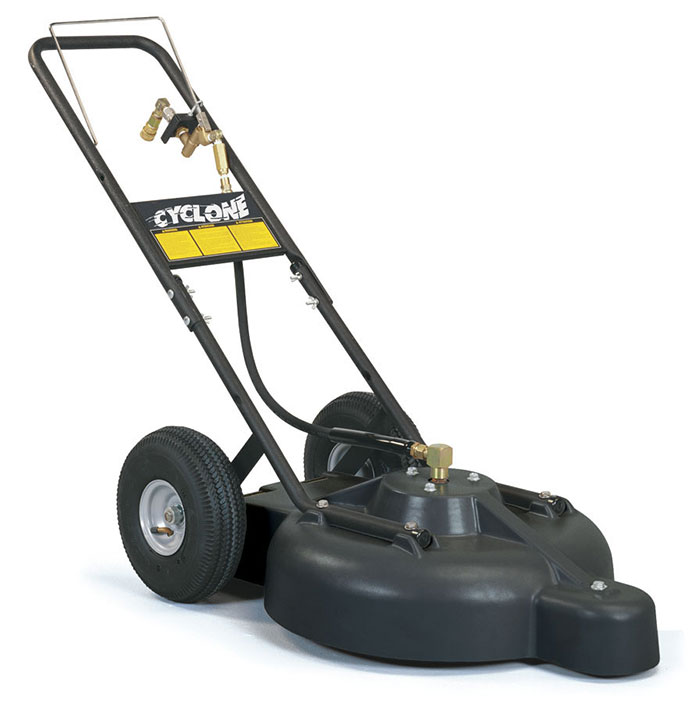 Cyclone Surface Cleaner Product Literature
The standard pressure washer wand comes with various nozzle settings that produce different widths of distribution for the spray of your water. Even the widest of the normal nozzle settings may not be enough to quickly clean every large area. That's why we also offer flat surface cleaners that can wash large, flat surfaces faster than you would be able to with the normal wand. These accessories are flat discs that are set on swivel castors and are guided by long handles like a lawnmower. The underside of a flat surface cleaner has a rotating nozzle that provides powerful but even spread of pressurized water to clean larger areas. Flat surface cleaners give you the power and speed of a pressure washer with added mobility and efficiency.
What kinds of jobs are flat surface cleaners used for?
If you're responsible for cleaning large, flat surfaces quickly, a regular washer wand may not be enough. Patios, parking lots and warehouse floors, for example, all need to look their best. With a flat surface accessory to your pressure washer you can clean 400 square feet of flat surface in about ten minutes. With a normal wand, this job would take up to eighty minutes. That's a lot of savings in labour costs and water.
Our flat surface cleaner has a very low clearance so it can go right up to walls without missing any surface area. That, combined with its swivel capabilities, means that there are few flat surfaces a pressure washer can't reach.
How easy is it to get a flat surface cleaner or other parts and accessories?
All you have to do is contact one of our experts at Hotsy Water Blast in Edmonton, Saskatchewan or Vancouver, British Columbia today to find out more about how simple it is to improve the efficiency of your pressure washer. Improved efficiency saves you money and time. Whatever your or your business's washing needs are, we at Hotsy Water Blast have a solution that works for you. With the right accessories, any job can be made easier.
Surface Cleaner Designed with You in Mind