How to thaw frozen culverts in spring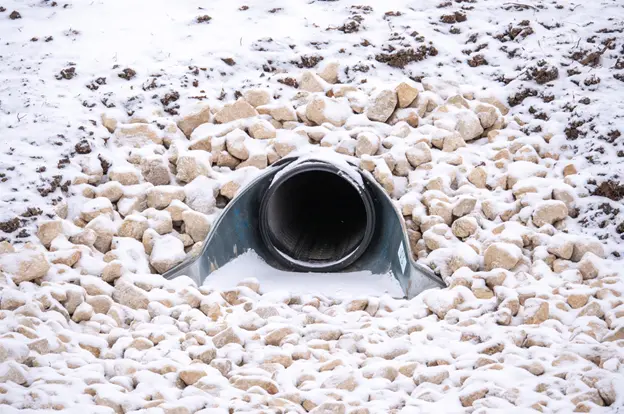 As spring emerges, many property owners face the challenge of how to thaw frozen culverts. Frozen culverts can lead to blocked drainage, flooding and road or property damage. Fortunately, a hot water pressure washer provides an effective and safe solution. Here's how to effectively thaw frozen culverts with a pressure washer.
What you'll need
 Gather the following gear before trying to thaw frozen culverts:
Hot water pressure washer. A hot water pressure washer provides the required heat to melt the ice inside the culvert. A pressure washer with a maximum PSI (pounds per square inch) rating of 3,000psi and a temperature capability of 80 C (180 F) or higher is recommended.
Pressure washer parts and accessories. When it comes to pressure washer nozzles, choose a specialized culvert nozzle, which features reverse jets and a rotating style that blasts ice and flushes it out while channelling through the pipe. Additionally — depending on the depth of the culvert — you may require an extension wand or extension hose to reach the frozen area effectively.
Safety gear. Of course, safety should be a top priority. Wear appropriate personal protective equipment (PPE), including gloves, safety goggles and non-slip footwear.
Cold-weather clothing. Dress warmly in cold-weather clothing to stay comfortable during the process.
A truck-mounted, diesel– or gasoline-powered pressure washer is the best choice for work in remote areas. Alternatively, a skid-mounted pressure washer can be secured to the back of a truck, onto an open-bed trailer or inside an enclosed trailer. If you don't own a hot water pressure washer, consider a pressure washer rental.
Thawing method
 Follow these steps to safely thaw frozen culverts using a hot water pressure washer:
Prepare the pressure washer by filling the fuel and water tanks.
Inspect the culvert's entry and exit points and remove any branches or debris that could impede the water flow.
Turn on the machine pump and burner switches.
Begin by directing the hot water spray into the frozen culvert, starting at the entry point. Slowly work your way deeper into the culvert, pushing the hose in and out of the opening, allowing the culvert nozzle to blast out ice and debris.
Periodically check the culvert's exit to see if water is flowing. If not, continue thawing until water freely passes through the culvert.
Hot water pressure washer sales and rental in Western Canada and North Dakota
At Hotsy Water Blast, we specialize in hot water pressure washer sales and rental services, including an array of parts and accessories. . We're located in Edmonton, Calgary, Lethbridge, Red Deer, Grande Prairie, Langley, Regina, Williston and Bismarck, North Dakota. Contact us today to learn more about our unparalleled selection and get a custom quote.