Sanitizing equipment and products that keep your staff safe and healthy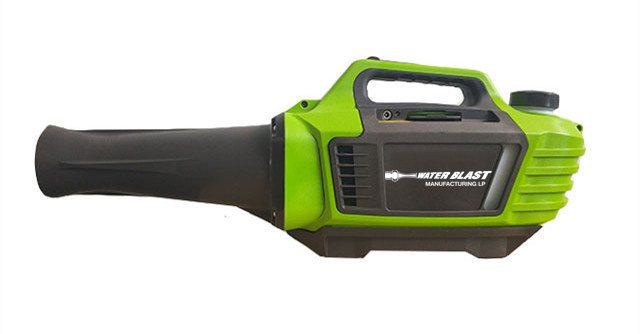 Due to the coronavirus pandemic, businesses have become increasingly mindful about sanitizing surfaces to prevent virus transmission.
Rigorous sanitary practices are essential everywhere, but they're especially important in busy workplaces and high-traffic areas such as public buildings, retail environments and airports. When effective disinfection procedures are absent, it jeopardizes the safety of customers and employees. Moreover, it can cause a large number of workers to fall sick and require days off, thereby seriously impacting your business' operations.
When it comes to sanitizing, Hotsy Water Blast is your best resource. We offer the following disinfection equipment.
Handheld disinfecting and sanitizing machines
Hotsy Water Blast offers handheld sanitizing machines designed for quick and efficient disinfection of surfaces.
The SF-750 and SF-551 are battery-operated fogging machines that sanitize surfaces through the application of a thin, contained stream of fog. These cold foggers can be used both in indoor and outdoor environments and are suitable for disinfecting both workplaces and public areas. This includes washrooms, retail areas, restaurants, food processing plants and more.
Our handheld sanitizing machines are designed to be used with the Hotsy Vital Oxide Solution, a Health Canada and EPA-registered hospital disinfectant that has been approved for use in public spaces, industrial facilities, homes and offices.
Wheeled disinfecting steam machines
Hotsy Water Blast also offers the Optima Steamer XD, a heavy-duty, wheeled steam machine designed both to clean and sanitize surfaces. The Optima Steamer XD can apply either dry or wet steam and, due to its high-temperature range, can sanitize surfaces and eliminate bacteria and viruses without the need for chemicals. Moreover, it accommodates a wide range of attachments, including 15 kinds of steam guns, each of which have varying nozzle types and wand lengths.
Customized pressure washer
A Hotsy hot water pressure washer can be used for many purposes, including disinfecting and sanitizing surfaces. Hotsy pressure washers can reach temperatures of up to 200 F (93 C), and pressure washer detergents and disinfectant products can be directly added to the water stream. Pressure washers are, moreover, highly effective at blasting away dirt, grease and grime, making them ideal for environments with demanding cleaning requirements, from farms to construction sites.
Cleaning and sanitizing equipment in Western Canada and beyond
Hotsy Water Blast can set you up with all the equipment you need to keep your facility clean and disinfected, from sanitizing machines and steamers to pressure washers and pressure washer detergents. Contact us to learn more about our cleaning products and services in Alberta, British Columbia, Saskatchewan and North Dakota.