Service You Can Expect from Your Local Hotsy® Dealer

You've likely heard the expression from XYZ Company about how they "stand behind their products." At Hotsy Water Blast, we prefer to stand before our customers, answering their questions and resolving any issues they may have — even if it's years after the sale. Let's say you're a customer that bought cleaning equipment in Calgary or a power washer in Vancouver and, after two years, you start to experience mechanical issues. At that point, is it any comfort to you in knowing you purchased a top-of-the-line product? Absolutely not. That's why we offer a number of follow-up, maintenance, and service options to keep you productive and absolutely satisfied with your purchase.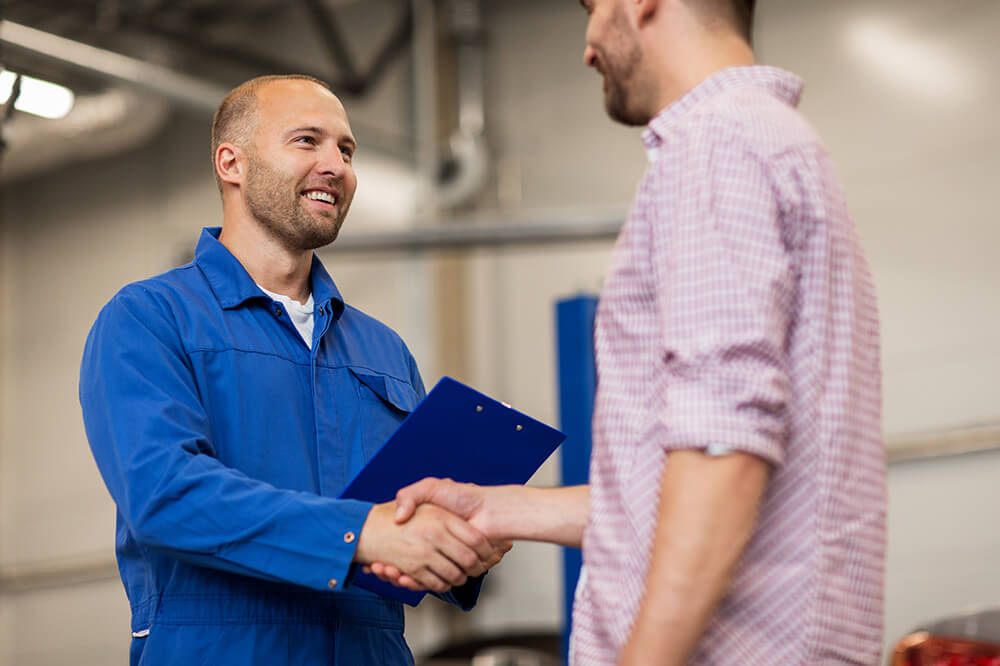 Don't Worry, We'll Come to You
Many Hotsy® wash bays are powered by natural gas and feature complex venting systems and water lines. For a service provider unfamiliar with Hotsy® products, dismantling, servicing and reassembling this equipment may be time-consuming and difficult. Hotsy Water Blast has 16 mobile service technicians and 18 service trucks. This ensures that there's a trained and experienced team ready to service your cleaning equipment in Bismarck, power washer in British Columbia, or any product or location in Western Canada and North Dakota. Service by our knowledgeable technicians means reduced downtime and better maintenance for your Hotsy® product. Simply give us a call and we'll come to you! After all, mobile service is our specialty.
With 10,000 Parts, You Simply Can't Go Wrong
Hotsy Water Blast stocks 10,000 parts. This means repairs can be completed quickly, greatly reducing your downtime. Every Hotsy® location is well stocked with parts and accessories to give you the most timely service possible. If the part isn't in stock, we can have it delivered from our central Edmonton location and have it ready to install within a day. Whether you need service for your pressure washer in Vancouver or a replacement part for a pressure washer in British Columbia's remoter regions (or anywhere in Western Canada or the US), you can be confident that your Hotsy® equipment will be up and running when you need it.
Award-Winning Service
Many customers are surprised to learn that there are over 100 models of Hotsy® pressure washers, in hot, cold, gas, electric, and diesel varieties. That's just one product category. We offer products and services that cater to a variety of industries, such as:
As part of our services profile, we have cleaning consultants that can visit your facility and provide a free cleaning profile and efficiency inspection. But, how do we handle a complex project, such as installing cleaning equipment in Calgary — even in the dead of winter? That's easy. We engage our full-time engineer.
Full-Time Engineer on Staff
We have a full-time engineer on staff to ensure your installation lives up to your expectations and our Hotsy® products operate at peak performance. Our engineer assists with the planning, design, and installation of complex systems, such as truck-mounted cleaning systems, wash bays, in-plant systems, and custom-manufactured water blast systems.
During an installation, our engineer may have a hand in any of the following steps:
Engineering and design
Visiting the site before installation
System installation
Venting the unit to code
Running stainless for water distribution
Setting up wands and reels
Commissioning the system
Training end users
We'll also be there to install remote switches, cannonball tracking, separation curtains, and other features to ensure your wash bay has the functions you're after.
But, What do Customers Say about Our Services?
We asked and here are a few things customers are saying about services:
"…[Hotsy] always opened their doors for me, 24/7 I would never go to another outfit, never! I can't say enough good things about Hotsy Water Blast. There's not very many people who make themselves as available and are willing to solve the problem."
"Help is only a phone call away. When I started my business, I thought Hotsy was too expensive and bought equipment from their competitor. I soon learned that the price was cheaper but the after-sales support was too. I switched to Hotsy® Water Blast and now have a salesman that is genuinely interested in taking care of my equipment needs…"
"Hotsy has always been great to deal with. lot of pump problems in the past and other companies could not fix them[…] Since getting [Hotsy] to do my pump repairs, my downtime on my pumps has reduced enormously and the amount of call-outs has dropped also. Once they fix something it does not have the same problem. They are a great company to deal with and always arrive in a timely fashion."
If you are looking for a company to service your Hotsy® cleaning equipment, power washers, or wash bays, call Hotsy Water Blast. Our team serves all of Western Canada and North Dakota.