So, Why Should You Choose Hotsy® Pressure Washers?

In any industry, whether it's toothbrushes or tow trucks, only 10% of new products will be successful. And, an even smaller percentage will last more than a decade. Even some of the best-engineered and most innovative products fail. One big reason: the manufacturer viewed the sale as the end of their relationship with the customer. At Hotsy Water Blast, we see the sale as just a small part of the customer relationship. That is why we've not only survived the trials and tribulations all new companies face, but have experienced over 40 years of success. It also helps to offer the best industrial pressure washer in British Columbia and throughout the region — Hotsy®. So, what's our secret?
We believe in offering only the safest and longest-lasting products, but more importantly — supporting every product we sell through our dedicated service and support channels in Western Canada and North Dakota.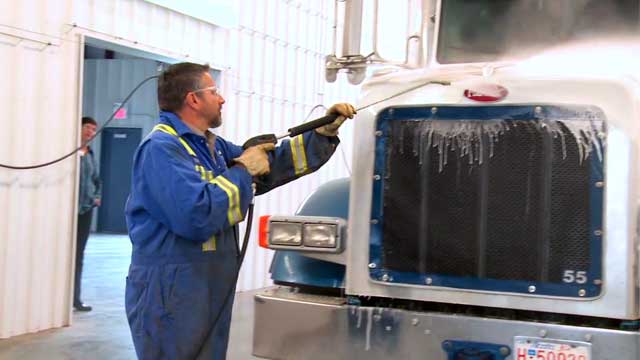 Powerful, Yet Safe and Eco-Friendly
The products we sell and service — the cleaning equipment, hot and cold pressure washers, pumps, parts and accessories, commercial car and truck wash systems, and waste water recycling systems — all must represent the best in the industry. They should also be safe to operate and not harm the environment.
Hotsy® products are ETL-certified and come with NESTechnology, a proprietary nested seal technology that better supports the side walls and high-pressure packing assembly to prolong the life of the seals within their devices.
When you buy equipment from Hotsy®, you buy it based on your current needs. But success in today's economic environment is driven by the speed at which your business adapts to change. People in technology industries know the benefits of having hardware and software engineered by the same company, each made for the other, creating a powerful, seamless, and easily upgradable unit. We take that same approach to engineering peripheral products that help you make the most of the equipment you purchase from us. Take, for example, our pressure washers and parts washers. We also carry an array of accessories such as nozzles, lances, wands, and high pressure pumps to help you adapt your Hotsy® pressure washer to a variety of industrial needs. We also carry environmentally friendly detergents and degreasers, designed to work with our pressure washers, to give you the cleaning power you need to maintain your equipment. This holistic approach to product development is another reason to buy Hotsy®.
We also understand that the best equipment for you may not already be in our product catalogue. We customize everything from mobile units to large-scale wash bays to give you equipment adapted to your business needs. Whether you need a custom commercial pressure washer in British Columbia or wash trucks in Edmonton, we'll be happy to put together an efficient and cost-effective solution for you. In addition to our custom cleaning systems, we also custom manufacture hydrovac heaters and pumping systems. If your plant requires custom equipment, call us and talk to our design team.
We'll Be There for You
Hotsy Water Blast recognizes that our success is tied to the success of our customers. That means we will ensure your operation's productivity through mobile services, scheduled inspections, regular maintenance, and on-site services. We're dedicated to increasing the longevity of your system. Whether it's a Hotsy® pressure washer, wash bay, water treatment system, hydrovac truck pump, or any other product, we'll be there to make sure it is operating at its best, so you can do your best work.
Whether you're looking to purchase a heavy-duty pressure washer in Langley, or fleet of wash trucks and steam trucks in Edmonton, our products are always supported with best-in-class service.
To bring our industry-leading Hotsy® pressure washers and award-winning services to your enterprise, contact Hotsy Water Blast today! We serve all areas of Western Canada and North Dakota.