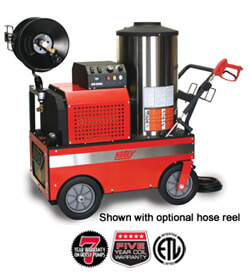 4.0 – 5.0 GPM @ 2000 to 3000 PSI
Hotsy crossfire oil-fired burner
Stainless steel coil wrap
Easily removable cover provides added protection
The Hotsy 800 Series is a mobile oil-fired washer with electric motor and belt-drive pump. Designed with 12″ rubber tires and beefy casters, the 800 Series provides impressive cleaning power yet is easy to maneuver. With the reliable Hotsy Crossfire burner, 7-year pump warranty and ETL safety certified, users find this unit is a smart choice.