Does a pressure washer's PSI characterize its effectiveness?

When comparing pressure washers, consumers tend to fixate on the PSI. However, there are other considerations to weigh. To measure a machine's true cleaning capacity, it's important to factor in PSI, GPM and CUs.
Additionally, how you use your pressure washer is key. That's why Hotsy Water Blast has a large selection of pressure washers to choose from. Whether you own a small business in Western Canada or manage an industrial worksite in North Dakota, HotsyAB has a pressure washer that's right for you.
Here's what you should know about PSI, GPM, CUs and what these terms say about a pressure washer's cleaning ability. Plus, find out what type of pressure washer is best for your individual needs.
Why are PSI and GPM important?
To effectively clean a surface, a pressure washer needs to be able to do two things: separate dirt and grime from the washing surface and rinse it away. A unit's ability to do the first action is partially measured by PSI; its ability to do the second action is measured by GPM.
What is PSI?
PSI stands for pounds per square inch. It refers to the intensity of the pressure with which the machine sprays. Think of PSI as the brute force of the water stream. When a pressure washer boasts a high PSI, you can count on it to lift the stickiest and most stubborn gunk. The PSI of effective commercial pressure washers ranges from about 2,000 to 3,000.
What is GPM?
GPM stands for gallons per minute. It refers to the flow rate or the volume of water that moves through the pressure washer's nozzle every minute. Think of GPM as rinsing power. The higher a pressure washer's GPM, the quicker you can wash a surface clean. The GPM of effective commercial pressure washers ranges from 2.2 to 10.
Which spec is more relevant?
Now that you understand what PSI and GPM refer to, you can appreciate why both these specs are important in determining a pressure washer's cleaning capacity. That said, very often contractors and professional cleaners pay particular attention to the GPM. They typically use powerful detergents in their pressure washers, which effectively dissolve dirt and grime to lift the debris from the surface more easily.
Note that the more pressure a machine delivers, the more physically demanding it is on the operator who has to offset the force of the water stream. Pressure washers with a high PSI can be more difficult and taxing to use.
What are cleaning units?
The cleaning unit (CU) is the figure obtained when you multiply the PSI by the GPM. This spec gives you a fairly good idea of the cleaning power of a specific pressure washer. However, this number doesn't tell the whole story. Two pressure washers can have the same CU without having the same cleaning chops.
For example, say one pressure washer has a PSI of 3,000 and a GPM of 2.0, and a second pressure washer has a PSI of 2,000 and a GPM of 3.0.
Both have a CU of 6,000, but the second pressure washer with the higher GPM will deliver the faster clean, as it can rinse away dirt more efficiently.
What's a good pressure washer PSI?
The ideal pressure washer PSI depends on the job being performed, and the most powerful unit isn't necessarily the one you need for the task at hand. Here's a breakdown of the types of Hotsy Water Blast pressure washers and their best uses:
1,200 to 1,800 PSI
Light-duty, domestic, used infrequently
From 1.7 to 3.0 GPM
The Hotsy 333 Model is a perfect entry-class hot water pressure washer with a convenient upright design that makes it easy to move and store. Its 1,200 PSI is gentle enough for washing cars, cleaning shutters, grilles, gutters, lawn furniture and removing mould.
For a little more cleaning power, the 500-680 SS series models feature 1,300 to 1,500 PSI and more GPM. They run on electricity and are heated with fuel oil, natural gas or liquid propane. The 555SS is one of Hotsy's most popular models.
2,000 to 3,000 PSI
Heavy-duty, daily/frequent use
From 3.5 to 5 GPM
These Pressure washers are a cut above the introductory models. Perfect for commercial use, the increased PSI is helpful for cleaning decks, driveways, siding, and tough stains.
The Hotsy 800 Series boasts a mobile oil-fired washer with an electric motor and belt-drive pump. The machines sit on four, 30.5-centimetre tires with robust canisters for easy moving.
The Hotsy 900-1400 is a series of stationary hot water pressure washers that come with programmable run time, auto start/stop and time delay shutdown.
3,000 to 4,000+ PSI
Tough, heavy jobs on industrial sites and farms
From 3.5 to 9.5 GPM
Hotsy's toughest pressure washers, these machines can take on the biggest industrial-strength jobs. They feature high PSI and GPM ratings to easily and effectively do the following jobs:
strip paint
remove graffiti
clean concrete and pavement
clean siding
remove stubborn stains
remove mould and mildew
The Hotsy 1800 Series features heavy-duty machines ideal for manufacturing and food processing facilities where hot water is needed to clean machinery and equipment indoors.
The 5700 Series pressure washers deliver cleaning power of up to 9.5 GSM and 3,000 PSI. They're powerful enough for wash bay installations and two guns can operate off one machine.
The Hotsy BDE Series is a mobile, cold water pressure washer with an all-steel frame and cage. With 5,000 PSI, it'll remove the toughest dirt and stains.
What should you know about pressure Washer PSI and safety?
It's important to know that if a machine has a PSI of over 3,500, the water pressure can damage certain surfaces, including the wood on a deck, the paint on a vehicle and human skin. It's important to keep the following safety factors in mind when using pressure washers with high PSI ratings:
Read the owner's manual. The owner's manual will tell you everything you need to know about the safest possible way to use your pressure washer.
Wear personal protective equipment (PPE). You need to protect yourself when using highly-pressurized water. Wear safety glasses, close-toed shoes, long pants and gloves.
Choose your spray tip. Pressure washers come with several spray tips or wand settings. Start washing with the widest angle spray tip, and never hold the tip closer than six inches away from the surface that you're cleaning. If you require extra stripping power for stubborn dirt and grime, generally it's better to use a detergent.
Be aware of kickback. High PSI washers will give you a jolt when you pull the trigger. It can cause you to slide on a slippery surface or knock you off an elevated surface. Never use a pressure washer on a ladder.
Be careful indoors. Gas-powered pressure washers emit toxic fumes, such as carbon monoxide, which can be fatal if you inhale them. They're also noisy and can damage your hearing. Be sure to use models designed for indoor settings.
Never point a pressure washer gun at another person. Pressure washers aren't toys and should be treated with respect. Being sprayed by one can lead to a serious injury requiring a trip to the emergency room.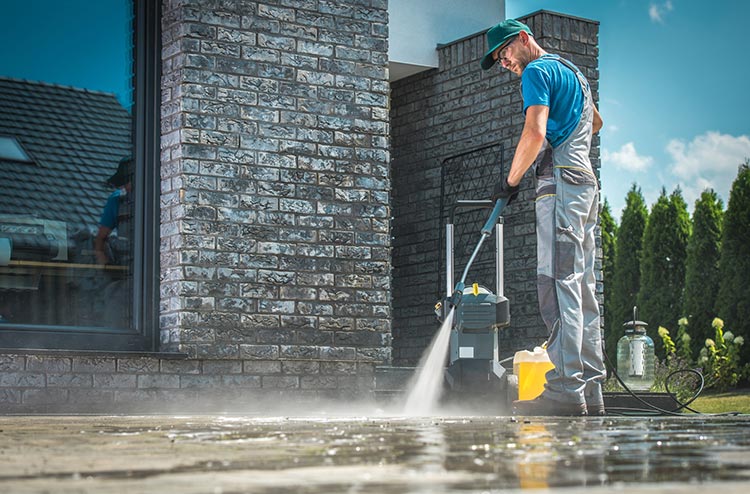 Get the best pressure washer for your cleaning needs
For a pressure washer that cleans even the grimiest of surfaces, choose Hotsy. With more than 100 models available, Hotsy Water Blast has the portable or stationary pressure washer to meet your cleaning needs. We have nine convenient locations across Western Canada, including Calgary, Edmonton and Vancouver. To learn more about our products and services, contact us today.